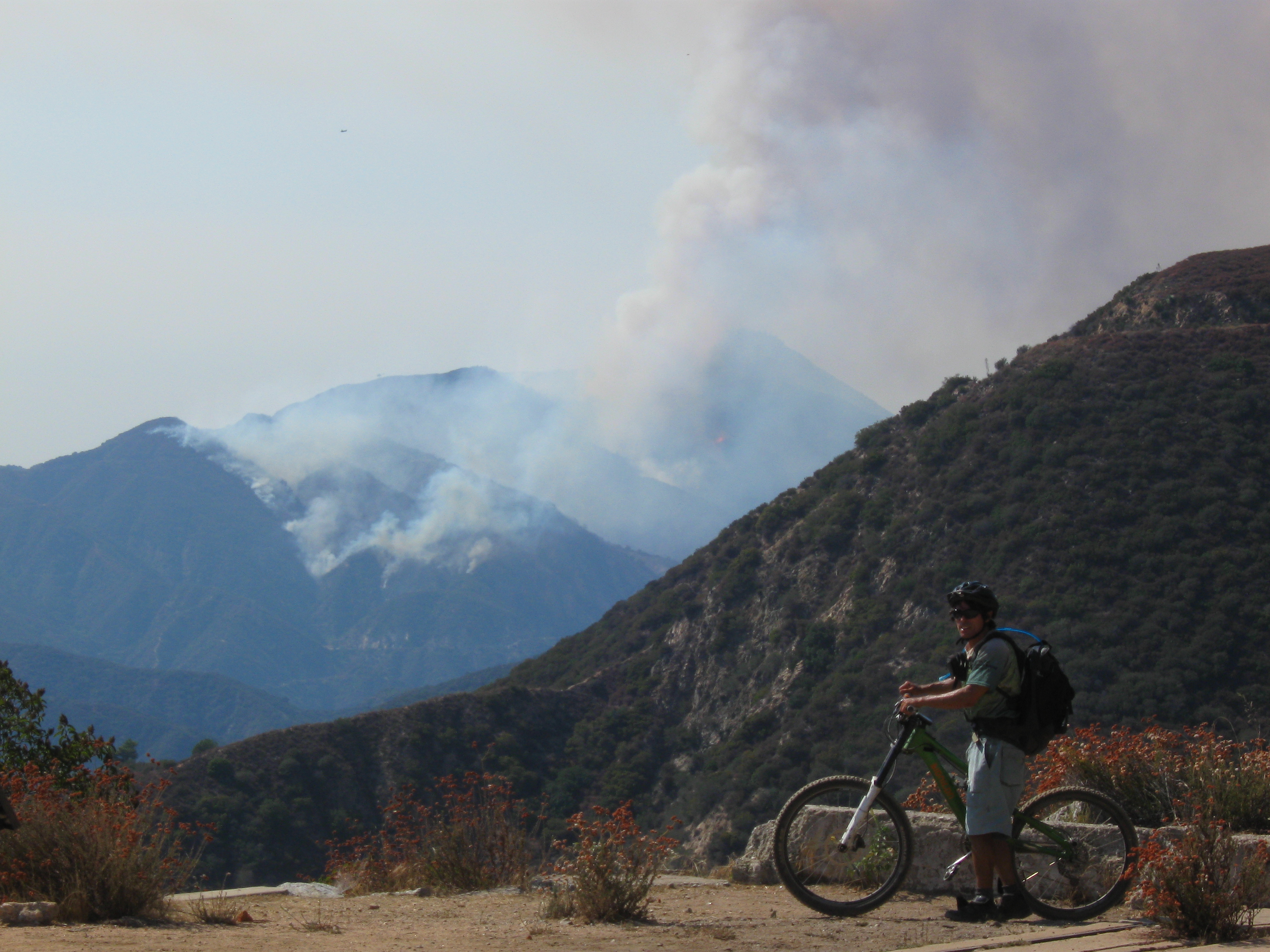 Ten years ago today, CORBA's trail crew set out to do trailwork on Sunset Ridge trail in the
Angeles National Forest
. When I
arrived at the chaney trail gate, it was closed. I rode up to Millard, from where I could see that a fire was burning in the Arroyo Seco Canyon, on the western flank of Mt. Lukens. We cancelled CORBA trailwork for the day, while I rode Sunset Ridge and El Prieto for what would be the last time in several years. The Station Fire burned for 50 days, until it was essentially extinguished by the first rains of the El Nino winter season in October. Over 160,000 acres burned, including most of our favorite trails. 
This changed my life, and changed CORBA's focus. Trails were closed with no indication of how much destruction there would be. Torrential rains over the next few months dealt a blow to the barren, burned earth. CORBA began focussing on rebuilding trails that had been damaged by the Station Fire.
Over the course of the next nine years, CORBA switched gears to begin rebuilding trails. Sam Merrill trail was our first volunteer work day a year after the fire. We had 70 volunteers show up, many of whom just wanted to get into the closed Forest and see the destruction first hand.
CORBA, working in tandem with other groups, restored: El Prieto, Brown Mountain, Sunset Ridge, Sam Merrill Trail, Rim Trail, Gabrielino Trail (Redbox-Switzers), Silver Moccasin Trail, Colby Canyon Trail, Strawberry Peak trail, Upper Brown Mountain fire road, Ken Burton trail, Mt. Hillyer trail, Doc Larson Trail, Rattlesnake Trail, Fascination Springs Trail, Vetter Mountain Trail, Charlton Connector, Silver Moccasin trail and others. We had tremendous support from the community, with grants from REI and Edison International. More than 10,000 volunteer hours were recorded.
A year ago CORBA and MWBA re-opened the last trail still closed because of the Station Fire. The Gabrielino National Recreation Trail. Since then, we have restored the Los Pinetos Trail (closed due to the Sand Fire), and have begun work on Woolsey Fire restoration efforts in the Santa Monica Mountains.
In the aftermath of the Station Fire, many in the mountain biking community gave back to get trails reopened for which we are truly appreciative. In that time the sport has grown, there are more people than ever using the trails, and the need for continued volunteerism and efforts to maintain our public lands is growing.
Thank you to the mountain biking community and the trails community at large for giving back to our trails over these last ten years. Let's keep up the momentum as we look forward to maintaining the trails we've restored and ensuring we all have places to ride our bicycles and connect with our public lands.