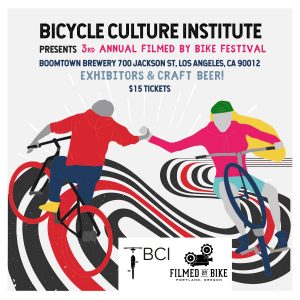 This weekend the 3rd Annual Filmed by Bike Festival comes to Los Angeles. Hosted by the Bicycle Culture Institute, it will be held at the Boomtown Brewery on Sunday, February 9, from 3 – 9pm.
There will be craft beer, exhibitors, movies & an awesome raffle. The Filmed by Bike Adventure Shorts program features inspiring tales of adventure, struggle and triumph on the rugged road. The path to expedition isn't always an easy, but nature and a wild sense of curiosity lure us away from our computers, desks and schedules to enter the great wide open. These incredible films will wow audiences with their gorgeous cinematography and compelling stories.
Tickets are available at Eventbrite or at the door. ONLINE Tickets Get 1 FREE Raffle Ticket!
Stop by and say hello to the exhibitors, including CORBA, MWBA, Girlz Gone Riding, Montenegro Manufacturing (MMFG), Dahon Bicycles, Around-the-Cycle, Bicycle Culture Institute (BCI), cicLAvia, Adrian's Epic Tall Bikes, Cohen Law Partners and RoadRunner Bags. There will also be a special panel discussion about the California Mountain Biking Coalition (a new state-wide MTB advocacy org), with board member and CORBA President Steve Messer.