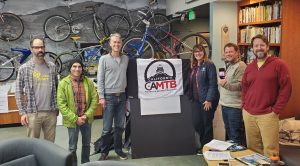 Beginning almost two years ago at the California Trails and Greenways Conference, CORBA President Steve Messer and advocates from around the state have been discussing the need for a statewide mountain bike advocacy organization. California is widely regarded as the birthplace of mountain biking. That also makes it the birthplace of mountain bike opposition, and of mountain bike advocacy.
For a time we had an IMBA representative, Tom Ward, who was a former California State Parks employee. He retired several years ago. Then we had an IMBA Regional Director, who was able to help coordinate advocacy efforts and peer learning opportunities with clubs from around the state. That position went away three years ago when IMBA ended their chapter program.
There has never been a dedicated regional organization to speak up for mountain bikers in Sacramento, or at the regional headquarters of the Forest Service, California State Parks, and other land managers.
Those discussions led us to form the California Mountain Biking Coalition (CAMTB), which had a soft launch in October 2019, when we received our Federal nonprofit EIN. We're still waiting for our nonprofit determination letter, which will complete the formation of the organization.
The California Mountain Biking Coalition's mission is to Improve and increase trail access for mountain biking throughout California by providing a unified statewide voice for organizations and individuals.
CAMTB is being organized to support and coordinate existing advocacy efforts from around the state, as reflected in the mission statement. The organization aims to help all California mountain biking clubs be more successful, and to advocate for legislation, ballot measures, regulations and best practices in recreation and natural resource management, with the goal of increasing mountain biking opportunities.
CORBA is proud to have been at the forefront of building this nascent organization. The new organization's board of directors is comprised of successful California nonprofit advocacy group leaders, including the San Diego Mountain Bike Association, Access4Bikes Marin, Redwood Empire Mountain Bike Alliance, San Francisco Urban Riders, and of course CORBA.
The new organization is a 501c4 nonprofit, which gives us more freedom to engage politically. A 501c4 can directly lobby for legislation, election candidates, ballot measures, and other activities that might threaten the status of a 501c3. The caveat is that donations to a 501c4 are not tax-deductible.
CAMTB already has a lot on its plate. The group is currently raising funds through a founders round donation drive, corporate sponsorships, and other donations. We are having discussions with industry representatives around sponsorship and fundraising.
The board has contracted with an organizational consultant with a record of success in growing a mountain biking organization. Austin McInerny, former executive director of the National Interscholastic Cycling League, facilitated an all-day strategic planning session with the board's first in-person meeting this week.
As we enter a new decade, we're looking forward to taking on issues at a statewide level. Many California mountain bike advocacy groups are facing the same challenges with the same disappointing outcomes with California State Parks. By working in Sacramento, we hope to bring about change from the top down to benefit all California mountain bikers. That will take time, funding, and a lot of boots on the ground advocacy. We're prepared to walk the halls of Sacramento, and to work directly with legislators and other advocates.
CAMTB is gearing up to take on those challenges. We're not here to replace or supplant any existing advocacy groups, but instead to help strengthen them through resource and knowledge sharing, peer learning, and facilitated discussions.
If you're heading to Sea Otter this year, stop by the CAMTB booth to say hi, and to learn about all that we're working on.