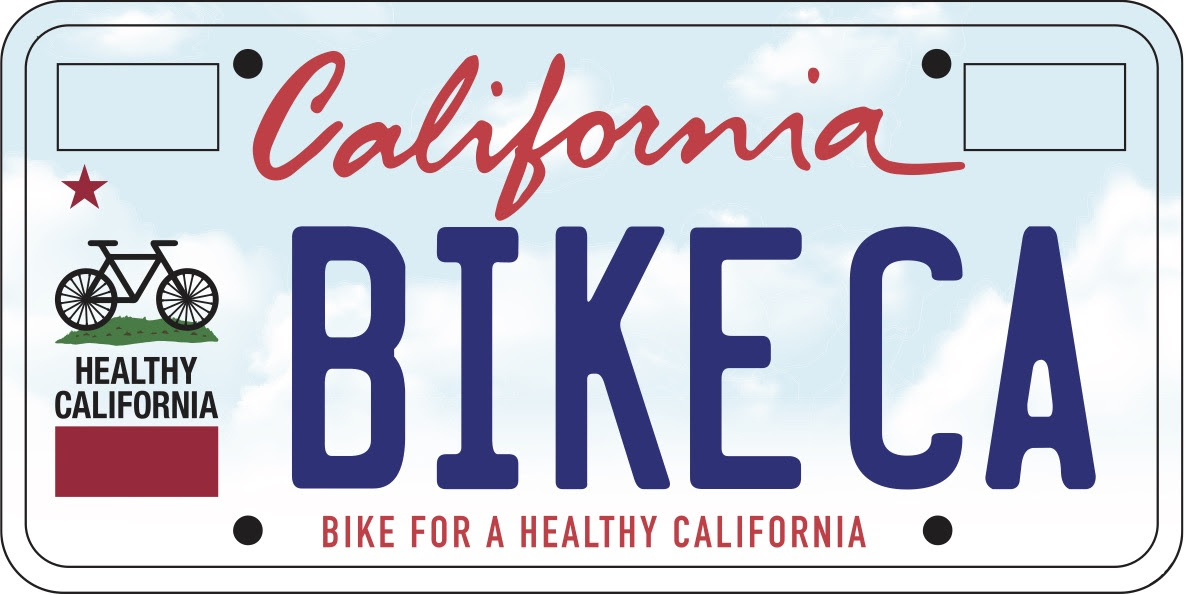 You can now order a specialty California license plate with a bicycle theme. The money raised by this license plate will provide grants for bicycle education and advocacy to community organizations at the state and local level.
For years, our friends at CalBike have worked to get California to join the 24 states that have a bicycle specialty license plate program. The new California program allows every car owner to pay extra for a special license plate that shows their support of bicycling. The plate also raises money to support bicycling.
CalBike has been working very closely with California Department of Public Health to design the plate and the program. The DMV has now approved the plate and is taking reservations at https://calbikeplate.com.
The bicycle specialty license plate costs $50. A personalized bicycle license plate costs $103.
The proceeds of the license plate will support education and advocacy to promote bicycling as healthy transportation. For example, grants could support earn-a-bike programs for at-risk youth, community education programs about the importance of bicycling, and share the road education for car drivers and cyclists. CalBike will remain involved as the program develops to make sure the funding supports powerful, effective programs that also lead to social change.
The DPH has to receive 7,500 orders by September 2020, or the DMV won't issue this plate. Once the 7,500 pre-order threshold is met, the DMV will begin to promote this license plate and will continue to offer it to motorists.
The sooner you place your order, the greater our chances of being able to activate this important funding source for bicycle education.