CORBA has a lot to be proud of this last ten years. It feels like the twenty-teens was the decade in which mountain biking really came of age. The sport has grown and we've seen tremendous changes and challenges. Mountain bikers are no longer a newcomer to the trails, but we've still got a long way to go.
There's no denying the explosive growth of mountain biking last decade. We've all seen more people on trails, and more of them on bikes than ever before. I've met more riders with less than five years experience than in any five-year period before the last. Conversely, we've seen relatively few new trails constructed in that time. The trail supply is not keeping up with the demand here in Southern California. The agencies and volunteers can't keep up with maintenance of the supply we already have. That's one thing that hasn't changed in ten years, and has gotten worse with agency budget cuts and increasingly severe weather. It's why we ask you to come out and give a morning back to the trails once or twice a year. You'll appreciate them so much more after a morning of trailwork.
Let's take a long look back at what has changed and been accomplished last decade.
Mountain biking's legitimacy as a sport and a member of the trail user community is no longer in question. It's a mainstay of advertisements for brands that want to portray a healthy lifestyle. Everyone knows that mountain biking is now a "thing", a true sport. 
The National Interscholastic Cycling Association (NICA), the governing body of the High School mountain biking was formed in 2009 along with our SoCal league. There's now mountain bike racing in middle schools, high schools and colleges across the country. It's an olympic sport. It took a decade to come full circle as Kate Courtney, a NorCal NICA alumni, took the world XC championship in 2019, and could be NICA's first Olympian. It's brought a whole new younger generation of riders to our trails.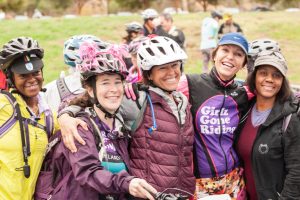 We've also seen more women entering the sport in the past decade. The Women's Mountain Biking and Tea Society (WOMBATS) were around in the '90s, but the local chapter faded away. In 2014 two CORBA board members formed Girlz Gone Riding (GGR), a women's mountain bike club. GGR has grown immensely and are now up to six chapters covering all of Southern California. NICA has also played a role in bridging the sport's gender discrepancy by incentivizing teams to be co-ed. More women on trails is a wonderful thing. 
Bike technology has come a long way in the last decade too. We've got bigger wheels, more stable and forgiving geometries, better suspension. Shifting is much easier with today's 1x drivetrains, a far cry from trying to teach somebody how to use a 3×8 drivetrain with V brakes.  Today's brakes are much more powerful, tires are better, fatter, and seat droppers are now standard. There are many more quality women's and kid's specific bikes. The bikes of today are much easier to ride and more capable than ever. 
Mountain bike instructor programs grew nationwide during the 'teens. It's now relatively easy to get a lesson from a certified instructor, knowing you'll receive consistent training. The BICP, NICA's Coach Training, the local Ninja mountain bike schools have all helped. CORBA's past president, Mark Langton, has been coaching mountain bike skills now for more than two decades. He was at one time, the only instructor around Los Angeles. CORBA's free skills clinics, run by Mark, are still going strong, despite having our first clinic cancellation in over 20 years (due to the Woolsey fire) in January 2019.
Love them or hate them, electric bikes are here to stay and are already having an impact on our sport. They've steadily grown in popularity over the last ten years, a time when they were for tinkerers and hobbyists. They're now allowing more people to get out and explore trails on bicycles. Long-time mountain bikers are continuing to ride well into their senior years and post-injury or illness. The disabled can get out on a trail. Slower riders can enjoy the company of faster riders. They have a number of benefits.
But they also present many challenges as the line between California's definitions of "motorized" and "non-motorized" recreation blurred with the passage of AB1096 in 2015.  E-bike access brings a whole new set of challenges to land managers and advocates that we didn't have ten years ago. 
Online services and apps like MTBProject and Trailforks have democratized trail discovery in the last decade. It's now easy to download an app or visit a web page and within a few clicks, see exactly where to ride, where you are, and what's nearby. I co-authored a guidebook in 2012 with CORBA founders and alumni, Jim Hasenauer and Mark Langton, "Where to Bike: Los Angeles Mountain Biking."  It was widely acclaimed at release, but book sales have plummeted as app usage has taken over the last five years. We're ending wholesale distribution of the book in 2020. 
This was the decade during which Bike Parks went (almost) mainstream. They have become a fixture in towns and neighborhoods around the country, despite their slow adoption here in SoCal. CORBA was proud to have had a hand in Fillmore Bike Park, ActiveSGV's Mulhall Pump Track, and the opening and ongoing expansion of Sapwi Bike Park in Thousand Oaks. Several more bike parks opened in Southern California in the past two years. We have more bike parks proposed and planned, including one in a park-poor area of Los Angeles, and Santa Clarita. They're bringing riding to the people, and encouraging more people to get exercise and have fun on a bike. 
There's no doubt, that in the last decade many of the major–non socioeconomic–barriers to entry to mountain biking have been removed. 
CORBA's Youth Adventures program is making a small impact on that. Administered by volunteers from the Mountain Bike Unit (another pioneering CORBA program), at-risk youth are given an opportunity to be taken on a guided, interpretive bike ride through trails in the Santa Monica Mountains. These dedicated MBU volunteers host kids who don't otherwise have access to nature. It's one of CORBA's early, pioneering programs that makes mountain biking and nature more accessible.
It isn't just mountain biking that is growing; trail running and hiking have also grown in participation. Social media has exposed the multitudes to the special places and trails I once had to seek out on paper maps, guidebooks, word of mouth, or by just getting lost while exploring. The selfie-generation has changed the motivation for many people to seek out and enjoy trails, and the places they lead. 
That has brought with it an entirely different cache of problems. Some trails are becoming unpleasantly crowded and being "loved to death." I now avoid some trails I once enjoyed regularly. Traffic and parking at trailheads, and graffiti and trash on the trails have all increased in the last decade. We've seen homeless encampments along trails and in campgrounds. Our underfunded land managers and volunteers struggle to keep up with the changing and growing demands on our trails. 
With all those barriers to entry removed, there's a whole generation of mountain bikers who don't know the many years of struggles, setbacks and tiny gains that it took for mountain bikers to be 'accepted' into the trail user community. They don't know about the multitudes of public and private meetings, working with land managers, and sheer activism it has taken to allow mountain bikes on some of our trails. The importance of advocacy and volunteerism to our sport's history is not immediately evident unless you start looking into where we can't ride and why. There are still plenty of places we're banned.  
Newer riders may not know that all the trails we ride in the Santa Monica Mountains are open because of CORBA's early advocacy efforts. There was a time we were only allowed to ride fire roads. There was a time we weren't welcome at all. Most probably don't know that CORBA founded the MBU as one of the first official mountain bike patrol units in the country. Their work as a positive presence providing public assistance and agency support on the trails is incredibly valuable. 
Our work to open more trails to bikes is ongoing. Our requests to State Parks to change trail use designations now span four decades, having begun in the 1980s. Ongoing volunteer trail maintenance and educational efforts have validated ourselves as productive members of the trail user community. IMBA played an immense role in that journey. CORBA was one of the five founding clubs of IMBA, and continue to work with them coordinating national and local advocacy for our mountains. 
The 'teens were the decade in which IMBA expanded with the establishment of their Chapter program. They grew and seemed to be running on all cylinders. We saw IMBA struggle when a loss of funding forced them to scale back and consolidate under new leadership. It was a setback for the entire mountain biking community. We later saw IMBA take a position against removing the blanket ban of bicycles in Wilderness areas and returning access issues to local decision makers. That did not agree with CORBA's founding ideals, nor many mountain bikers'. IMBA has now emerged leaner and stronger, but don't have the programming capacity they once did to help California. We're doing something about that. 
The twenty-teens also changed the way CORBA interacts with our community and we interact with each other. At the start of last decade we used social media primarily to communicate with our friends.  Facebook grew as online hotbed forums like OTB, STR and MTBR slowed. Social media has now become a marketing and manipulation tool as much as it is a social tool. We are told what to buy by influencers, we learn from online videos, and we can fully explore an area or a trail online before a visit. We need it as a communication tool, and a way to engage with our community. Communications is an area where CORBA needs to improve, if you're looking to get involved. We'd welcome the help.
Podcasts were barely known in 2010. Now we have Bike Talk, a local podcast by KPFK on which I've appeared many times. We also have Mountain Bike Radio, a podcast network just for mountain bikers with a variety of programs. The 'teens saw magazines shut down (Decline, Mountain Bike, and others), and websites, forums, blogs, Youtube channels and social media influencers exploded. With smartphone cameras and these platforms, our sport is being documented and shared exponentially more than it was a decade ago. 
We also saw a number of notable cycling businesses fold. Several long-running stores like Jones Bicycles, and Performance Bike come to mind. Online shopping and social media have changed how we shop and buy. The most notable industry shutdown is the cancelling of Interbike in 2019, once the only place to be for manufacturers to show their new product lines every year. It's another victim of internet.
For CORBA, the San Gabriel Mountains and the 2009 Station Fire dominated the 'teens. It  devastated all of the most popular San Gabriel mountains trails and closed a large portion of our National Forest for years. CORBA began restoring trails in 2010, six months after the fire. The sense of urgency to restore trails spurred the reemergence of the Mount Wilson Bicycling Association, who pre-date CORBA by two years but went fairly dormant through much of the aughts. 
Together, CORBA and MWBA worked on and restored more than a dozen fire- or flood-damaged trails, or dozens of trail segments (if counted that way). Several thousands of hours of volunteer work, and grants from REI, Edison, bike shops and others made it possible. We worked alongside LACC, MWBA, trail running groups and the Sierra Club on projects like Strawberry Peak loop. We worked with Boy Scout troops on the Doc Larsen and El Prieto trails. We worked with High School Mountain Bike Teams. We hired Bellfree Contractors to do some heavy lifting and technical work. The culmination was the reopening of the Gabrielino Trail in 2018, after nine years of closure, during which nature and weather did their best to take back the trail. That was a special highlight of the decade.
Then less than two months later the Woolsey Fire hit the Santa Monica Mountains. Our restoration and volunteer efforts shifted focus. 
It was a sign that the climate change predictions we had been hearing from scientists for more than 30 years had begun to truly manifest in the latter half of last decade. Droughts, wildfires and tempestuous storms seem to have become the norm in California. In my home country of Australia, almost 14 million acres have burned in the last three months. How we adapt to this new norm, and how we manage trails in the decades ahead is yet to be seen, but the impacts are already happening. It will be an ongoing challenge going forward.
Another significant moment of the decade was the 2014 declaration of the San Gabriel Mountains National Monument. That brought new funding and a new focus to our local mountains. CORBA had supported prior efforts to bring more resources and protections to the Forest, but only had two days' notice that a Monument would instead be declared. We had no part in the discussions around the designation, but made sure that we've been at the table since. As CORBA's President I joined the San Gabriel Mountains Community Collaborative, a group of elected officials, conservationists, industry, local government, social justice, utilities, fire fighters, and other community stakeholders brought together by the National Forest Foundation. The Collaborative has been a tremendous vehicle for finding consensus around our common interest in the mountains, to advise and work with the Forest Service, and to expand CORBA's network and reach.
CORBA's induction into the Mountain Bike Hall of Fame in 2013 rounds out the memorable moments and notable changes of last decade. This fitting recognition of CORBA's pioneering programs and approaches to advocacy was really earned by those who served on CORBA's Steering Committee and Board before me. It's been a privilege for me and the current board to further the work they started. 
To me, the culmination of the decade is the formation of the California Mountain Biking Coalition. Under IMBA's chapter program there had been some great progress in bringing mountain bike clubs and advocacy groups from around the state together. We had a Regional Director who could speak for us in the capitol, and help coordinate efforts when statewide or national actions were needed. That went away along with IMBA's chapter program in 2017. 
We've always needed a better way to communicate with other clubs and advocacy groups. We've needed a way to coordinate efforts for a bigger impact. We've needed a California Mountain Biking Coalition. I started on the steering committee in 2018, but things really stepped up in 2019. We formed the California Mountain Biking Coalition as a 501(c)(4) nonprofit, ready to work in Sacramento and around the State, in partnership with local clubs, to make a difference. As a 501(c)(4) we're in a unique position to solicit change from the top down. A Founder's round of donor funding begins today, Jan 1, 2020. 
Now is also a time to look forward at what's to come. Our Sapwi Committee are currently fundraising to expand Sapwi Bike Park. We have a pending grant from REI to rebuild bridges on the Backbone Trail. We have a pending project in Big Santa Anita Canyon on the Gabrielino trail. Our Santa Clarita Valley Trail Users committee are building new trails to connect communities to their public lands. They also have had a significant impact in advocating for and maintaining trails around the SCV. We have the foundation laid for a statewide 501(c)(4). 
We have regular trailwork events throughout the year, though it seems by my estimates, that fewer than a quarter of our members do at least one trailwork day a year. We can do better than that. Come out and dig. It's work, for sure, but it's a lot of fun.
CORBA's biggest challenge as an organization is to grow. We haven't grown with the sport. Our membership numbers are not much different to what they were in 2010. Our board is operating at capacity, and we'd welcome interested mountain bikers to join us. Help us ensure the next ten years will bring us more opportunity, more trails, and better trails. We're hoping to make further progress in opening some hike-horse only trails to multi-use, when, supposedly, the Interagency Trail Master Plan for the Santa Monica Mountains National Recreation Area is released. The plan started in the 'aughts, and has now that we're in the '20s, it has spanned three decades. State parks has been intransigent to work with, and we're hoping to improve those relationships through CAMTB.  There are some opportunities for new trails on MRCA lands, in the City of Santa Clarita, and new trails at Mt. Waterman. Advocacy moves at a glacial pace in California, and is a marathon, not a sprint. We're in it for the long haul. 
I have to thank our current board, Wendy Engelberg, Joyce Higgins, Peter Sullivan, and Jennifer Jacobson for their sacrifice and dedication. I also have to thank our Santa Clarita Valley Trail Users, and the Sapwi Bike Park Committees. Together we've all made huge strides over the past decade, and you have all been integral to CORBA fulfilling our mission.  I thank you all. 
It's astonishing now to think back to 2010 and all that has happened since. I can only wonder how we will fare when 2030 rolls around, but I know with your help we can make a difference. Please join us in 2020, as a member, a volunteer, or a donor. 
Have fun on the trails, and have a happy, safe, and prosperous new year and decade! 
Steve Messer
President
Concerned Off-Road Bicyclists Association
Note :edited 1/24/2020 to include Youth Adventures Program. 
Tags: 2010, annual message, decade, president's message, retrospective, yearend