| | |
| --- | --- |
| CORBA eNews for April 15, 2009 | |

Bikes are not allowed in LA City Parks. Mountain bikers can start to change that at Wednesday's meeting!
If this email message is not displaying correctly, it will display properly for you on this web page.
In this issue...
Wednesday April 15: Meeting at LA City Hall for Community Input into Mountain Bike Access to City Parks at 2:00 pm!
Help legalize access for mountain bikes on off-road trails in Los Angeles city parks
WHAT:

Arts, Parks, Health and Aging Committee Meeting


WHEN:

Wednesday, April 15 at 2pm


WHERE:

Room 1010, City Hall, 200 N. Spring St., Los Angeles 90012.

Los Angeles County Bicycle Coalition and the Concerned Off-Road Bicyclists Association support legalizing access for mountain bikes on off-road trails in Los Angeles city parks. We know that there are many public parks within the city limits of Los Angeles where mountain biking is feasible and appropriate, and we urge City Council and the Department of Recreation and Parks to legalize access for mountain bikes where possible. It is important that this policy change be reflected in the upcoming update to the City's Bicycle Master Plan. Allowing mountain bike access to trails in L.A. parks fulfills an unmet need for the challenging outdoor recreation that a growing number of urban residents are seeking. It will allow for the development of youth programs to help get kids involved in healthy outdoor activities and foster in them an appreciation for open natural spaces and undeveloped lands.

What you can do:

Attend this meeting and speak in support of mountain bikes having trail access to city parks!

You don't need a polished presentation; just let them know we need access. Here are some key points:
A change in the parks' policy regarding mountain bikes needs to be reflected in the current update to the City's Bicycle Master Plan
There are many parks throughout the city where mountain bike access is feasible and appropriate
Allowing mountain bikes on park trails will fulfill a recreational gap in densely built urban areas
It will allow for the development of mountain bike programs for children and teens
In many trail systems throughout the country, mountain bikers, hikers, and equestrians share trails with minimal conflict, and those models are the ones that the City of Los Angeles should follow
We need as many cyclists' voices as possible to support and speak out for access to trails in LA City Parks!
How the equestrian activists are responding:
Equestrians are urging their members to attend this meeting and write letters to urge that all LA City Parks continue the ban of mountain biking. They say, among other things, "It has been shown in the local State and National Parks where trails have traditionally been used by hikers, families and equestrians (one particular local trail in Malibu Creek State Park -- the Tapia Spur Trail, and also many segments of the renown (sic) Backbone Trail in the Santa Monica Mountains where it is not possible to see oncoming speeding mountain bikers to defend oneself against being threatened, life and limb, with their speed), the addition of mountain bikes on those trails has caused the rest of us to stay away from those trails especially after experiencing incidents with the speed used by mountain bikers, jeopardizing our very lives. We must keep LA City parks trails safe - for hikers, families and equestrians -- from the dangers mountain bikers impose on the rest of us!"
View the full equestrian message here.
---
Earth Day is on April 22
Earth Day is intended to inspire awareness of and appreciation for the Earth's environment. We get inspired every time we ride. If you ride on Wednesday the 22nd - and every time you ride - leave no trace and then make a net positive impact on our parks and open spaces by picking up litter that you may encounter.
---
April 18 - California Trail Days at Wildwood-Stoneyvale, with lunch. The USDA Forest Service and associated LARRD volunteer organizations will celebrate California Trails Day on April 18, 2009. The celebration will include 4-6 hours of trail work on the Wildwood-Stoneyvale area trails and a lunch to celebrate the event. This event is organized by the volunteer groups of the Los Angeles River Ranger District. Lunch will be held at the Wildwood Picnic Area and will include a short ceremony about California Trails Day. Lunch will be served at 1:00 PM. Activities will end at 3:30 PM. Note that this is not the Wildwood Park in Thousand Oaks. Details.
April 24-26 - Santa Monica Mountains Trails Days. This is a weekend event with CORBA, SMMTC and other trail user groups with camping at Danielson Ranch in Point Mugu State Park. You can come in Friday night and stay until Sunday or leave Saturday after trail maintenance. Some people just come in for Saturday. There will be a barbecue on Saturday evening. Get the Informational flyer and registration form: http://www.smmtc.org/TrailDays_2009.pdf. Details.
The Santa Monica Trails Council conducts trailwork every Saturday. Here are the dates they will be fixing up trails that are open to mountain bikers:
---
Check the CORBA Calendar for the ride description, details on difficulty level, directions to trailhead, etc.
Wednesday, April 15
Thursday, April 16
• 5:00 pm -8:00 pm :
Valley MTB rides
• 6:00 pm -8:30 pm :
Sullivan Canyon MTB ride
Tuesday, April 21
Wednesday, April 22
• 6:30 pm -8:30 pm : Palos Verdes MTB ride- intermediate/advanced
Thursday, April 23
• 5:00 pm -8:00 pm :
Valley MTB rides
• 6:00 pm -8:30 pm :
Sullivan Canyon MTB ride
Friday, April 24
---
Free Mountain Biking Skills Clinic
Saturday May 2 is the next skills clinic.
The CORBA free skills clinic is held on the first Saturday of every month at Malibu Creek State Park.
Mountain biking is a lot like tennis or skiing. Just a few minor adjustments in technique can make a huge difference in your control and proficiency. If you want to get better faster, you need to know the fundamentals of mountain biking technique. Whether you're just getting into mountain biking or have been riding for years, you'll learn some valuable tips from our Introduction to Mountain Biking skills class that is offered each month. Check out our Skills Clinic web page for all the information. After the clinic, see photos of your new skills on the CORBA web site that you can share with your family and friends!
CORBA holds a recreational bike ride for beginners the second Saturday of every month, a week after the Skills Clinic. This is the perfect opportunity for the clinic attendees to practice their new skills! But you don't need to attend the Skills Clinic before you come on this ride; everyone is welcome. This is a great ride for first-timers to the CORBA recreational rides. The ride leader will go over the basics of riding a mountain bike along the route.
---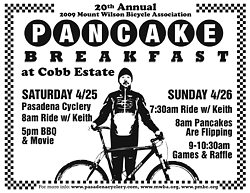 Mount Wilson Bicycle Association Pancake Breakfast

The 20th annual 2009 Pancake Breakfast fundraiser will be held on April 25 & 26 this year.

Bike to Work Day in LA County: Thursday, May 14, 2009

The 15th annual Bike to Work Day is coming on Thursday, May 14, 2009. LA Metro expects a record number of participants to enjoy a relaxing, healthy, green bicycle ride to work. To pledge and be entered to win fabulous prizes, or just to learn more, go to www.metro.net/biketowork.

New on the CORBA Website
---
Join or Renew your membership

today on our membership web page.

Join Our Team! Do you have any ideas about mountain biking recreation in the L.A. region? Would you like to apply your skills and manage projects that contribute to the sport and lifestyle that you love? Is there an advocate in you? We are recruiting motivated individuals who work well with others. Send an email to info@corbamtb.com or come to a monthly Members Meeting to find out more about what we do and how you can help. Check the calendar for the next meeting.

Other simple ways to support CORBA

(Click on the links above to get more details!)
---
You are subscribed to the CORBA News e mail list. To unsubscribe, send an e mail to corbanews-unsubscribe@corbamtb.com
Please do not reply to this email as the corbanews mailbox is not monitored by people. To contact CORBA, email to info@corbamtb.com or visit our 'Contact Us' page for other addresses.