| | |
| --- | --- |
| CORBA eNews for April 2, 2009 | |

Seen on the Wood Canyon Fireroad in Pt Mugu State Park (Sycamore Canyon). See below.

If this email message is not displaying correctly, it will display properly for you on this web page.

In this issue...

Fellow CORBA members, we are looking for folks who love mountain biking and want to contribute to their favorite outdoors sport more meaningfully with their time. One hour per week or so is all we ask to lend a hand with one of our projects: indoors, outdoors, or online. One volunteer said, "I signed up because I needed community service hours. I didn't expect (trail work) to be fun. The people were relaxed and everyone pitched in, no slackers. The snacks & cookies were good." We'd love to hear from you! Contact us at info@corbamtb.com with the subject Lend a Hand. Visit our calendar to see our upcoming events. See you at our next meeting on Monday, April 13th at 6:30 pm
Join Team CORBA at Sea Otter Classic
The Sea Otter Classic, a Celebration of Sport, will be held on April 16-19, 2009 at the Laguna Seca Recreation Area, Monterey, California. This four-day cycling and outdoor sports extravaganza features a full schedule of amateur and pro mountain and road cycling events, as well as family activities for all ages. The Sea Otter Classic also plays host to one of the largest consumer bike expos in the world.
This year, CORBA is fielding a team that you can be part of! The advantages of being part of the team are

15% discount on athlete event entries and each registered cyclist will receive 1 complimentary 4-day festival pass

15% discount on additional festival passes. Kids 12 and under are free.

15% discount on club campsites (primitive sites only; SOC does not guarantee that campsites will be next to each other. Camping sites are limited to 8 people and 2 vehicles per site)

Free Team CORBA T-shirt, socks or bike bell

Hang out at the cozy Team CORBA club zone
For more information or to join Team CORBA at this year's Sea Otter Classic, email us at team@corbamtb.com now - time is running out!
List of Trails Closed to Mountain Biking
In last month's eNews, we described a problem of vandalism in the parks ("A Few Bad Apples"). Many trails are closed to mountain biking whether we like it or not, but not all closed trails are marked as such. And as last month's article documented, some "Closed to Biking" signs have been defaced or removed. As a result, the biking status of many trails can't be determined at the trailhead. To address this, we have create a list of trails that we know are closed to mountain biking. Take a look at this List of Closed Trails before heading out to ride, especially when riding in an unfamiliar area. Please ride only on open trails.
---
CORBA's Annual Fat Tire Fest will be Sunday, October 25th at Castaic Lake
Celebrate CORBA's 22nd Annual Fat Tire Fest! Sunday October 25th at Castaic Lake. Trail rides, treasure hunt, great prizes, win bikes and bike accessories, giant raffle, skills features, kids bike rodeo, hill climb contest, wheelie contest, bike limbo, great food, snacks, goodie bags, celebrity kids bike ride, pro skills clinic, music and more! Come out and join the fun! Support mountain bike trail access and have a great day on the trails! For more info contact: info@corbamtb.com or Louisa - mtbike4@verizon.net. To see photos of last years event go to the 2008 FTF Photo Galleries.
Volunteers Needed - help with FTF fundraising campaign.
Each year CORBA puts on the Annual Fat Tire Fest which is lots of fun for everyone and a chance to win fantastic prizes and great bike gear, but it also takes a lot of money! This year CORBA would like raise funds to cover the expenses of the Fat Tire Fest in advance so that the event can focus on pure fund raising for our great community programs and projects such as bike parks, trail building and repair, Youth Adventures and focus on fun for all! We are looking for 10 volunteers to contact 18 companies each. If you have some fund raising experience and time to help CORBA with this goal please contact Louisa Bonnie at: mtbike4@verizon.net or 310-374-7552. Thank you for supporting CORBA and mountain bike trail access!
---
Why do Trailwork? If you've ever wondered this, take a look at this article in the Summer 2008 issue of Terra Times to learn more about why it's important. Visit the CORBA Trail Crew page for more information and links to photos of past events.
April 4 - Rogers Road Backbone Trail. This ia a joint trailwork project with the Santa Monica Mountains Trails Council and REI. Details.
April 18 - California Trail Days at Wildwood-Stoneyvale, with lunch. The USDA Forest Service and associated LARRD volunteer organizations will celebrate California Trails Day on April 18, 2009. The celebration will include 4-6 hours of trail work on the Wildwood-Stoneyvale area trails and a lunch to celebrate the event. This event is organized by the volunteer groups of the Los Angeles River Ranger District. Lunch will be held at the Wildwood Picnic Area and will include a short ceremony about California Trails Day. Lunch will be served at 1:00 PM. Activities will end at 3:30 PM. Note that this is not the Wildwood Park in Thousand Oaks. Details.
April 24-26 - Santa Monica Mountains Trails Days. This is a weekend event with CORBA, SMMTC and other trail user groups with camping at Danielson Ranch in Point Mugu State Park. You can come in Friday night and stay until Sunday or leave Saturday after trail maintenance. Some people just come in for Saturday. There will be a barbecue and raffle on Saturday evening. Informational flyer and registration form coming soon. Details.
The Santa Monica Trails Council conducts trailwork every Saturday. Here are the dates they will be fixing up trails that are open to mountain bikers:
---
Check the CORBA Calendar for the ride description, details on difficulty level, directions to trailhead, etc.
Thursday, April 2
• 5:00 pm -8:00 pm :
Valley MTB rides
• 6:00 pm -8:30 pm : Sullivan Canyon MTB ride

Saturday, April 4
Sunday, April 5
Tuesday, April 7
Wednesday, April 8
Thursday, April 9
Saturday, April 11
Tuesday, April 14
Wednesday, April 15
Thursday, April 16
Tuesday, April 21
Wednesday, April 22
• 6:30 pm -8:30 pm : Palos Verdes MTB ride- intermediate/advanced
Thursday, April 23
Friday, April 24
---
Free Mountain Biking Skills Clinic
Saturday April 4 is the next skills clinic.
The CORBA free skills clinic is held on the first Saturday of every month at Malibu Creek State Park.
Mountain biking is a lot like tennis or skiing. Just a few minor adjustments in technique can make a huge difference in your control and proficiency. If you want to get better faster, you need to know the fundamentals of mountain biking technique. Whether you're just getting into mountain biking or have been riding for years, you'll learn some valuable tips from our Introduction to Mountain Biking skills class that is offered each month. Check out our Skills Clinic web page for all the information. After the clinic, see photos of your new skills on the CORBA web site that you can share with your family and friends!
CORBA holds a recreational bike ride for beginners the second Saturday of every month, a week after the Skills Clinic. This is the perfect opportunity for the clinic attendees to practice their new skills! But you don't need to attend the Skills Clinic before you come on this ride; everyone is welcome. This is a great ride for first-timers to the CORBA recreational rides.
The ride is in beautiful Sycamore Canyon (Pt. Mugu State Park), starting at the PCH end, riding 8 miles on nearly level fire roads and singletrack. The ride leader will go over the basics of riding a mountain bike along the route.
The next ride will be on Saturday April 11th, meeting at 9:00 am at the pay day-parking lot in Pt. Mugu State Park, just off the PCH. This Google Map will get you to the park kiosk (on the north side of the street); the attendent can direct you to the lot from there. There is a fee for parking in the park, or you can park for free along the PCH and ride in.
---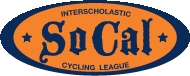 Calling All Volunteers: SoCal Interscholastic Cycling League Needs You!
With the weather forecast looking much better for Race 3, our hope is that everyone will show up rejuvenated and ready to... VOLUNTEER! The League events are dependent on the families and friends of our cycling community to ensure that the race is going to run smoothly and safely. With only two races to go, now is the time to get geared up for Race 3 at the Lake Arrowhead Invitational (April 5th). We have volunteer jobs to fit anyone's schedule - lasting from just a few hours to all day. We are especially in need of a few key positions which are listed below. Please contact Katie DeClercq (katie@socaldirt.org) to volunteer. Here's a list of volunteer opportunities for you to make a difference: course set up, parking and information at races, scoring, course marshalling at races, finish line support crew, venue take down, and course clean-up crew. www.socaldirt.org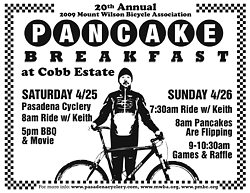 Mount Wilson Bicycle Association Pancake Breakfast

The 20th annual 2009 Pancake Breakfast fundraiser will be held on April 25 & 26 this year.

Sycamore Canyon Grading

Sycamore Canyon and other fireroads in Pt. Mugu State Park were graded during the last week of March. The good news is that unlike previous years in Sycamore and other mountain bike locales where grading meant earth movement of several inches with resultant crumble and dust, the recent grading left most our favorite rideable roads untouched. Along some short sections, the State Parks leveled out divits to enhance rideability and safety. Next time you see a State Parks ranger or employee on the trail, please give them a word of appreciation for a job well done. Alternatively, email CORBA at info@corbamtb.com and we'll collect your thanks and pass them along to our local State Parks Superintendents.

Work Underway to Reopen Mt. Wilson Toll Road

From the San Gabriel Valley Tribune, March 15, 2009 - Work to clear thousands of tons of earth from the Mt. Wilson Toll Road has started, four years after the popular hiking and mountain biking trail was blocked by a huge landslide triggered by record winter rains.

Funded by a $1.48-million Federal Emergency Management Agency grant, the work is "rapidly approaching the half-way mark," said Kevin Johnson, assistant chief of the Forestry Division of the Los Angeles County Fire Department, which is supervising the project. He said the steep trail is scheduled to reopen in mid- to late July.

For the complete story, go to www.sgvtribune.com/ci_11919305

LA City Parks. A New Beginning?

For several years CORBA has been asking Los Angeles City Dept of Recreation and Parks to provide some opportunities for legal dirt riding on LA Rec and Parks land. We don't have enough time to document the goings-on that have maintained the bike ban, but a new mediated discussion, with three bicyclists, three equestrians and three hikers, is about begin. City Hall says that the purpose of this group is to "increase mountain bicycling access." Former CORBA Steering Committee members Jim Hasenauer and Michael Goodman will be joined by Bicycle Advisory Committee member Aaron Kirsch to represent cyclists in this process.

Our position is simple: The people of Los Angeles ought to be able to ride their mountain bikes on appropriate trails and fireroads in this great city. With the economy in the tubes, families searching for inexpensive fun recreation, with everyone worried about sedentary kids and the long-term health effects, promoting mountain biking ought to be simple. But where politics is involved, nothing is ever straightforward.

We know anti-bike groups have already started organizing and there have been political moves that could be to the detriment of our access to some city parks. There may be a time in this process where we'll call on LA mountain bikers to speak up. Stay tuned.

Bike to Work Day in LA County: Thursday, May 14, 2009

The 15th annual Bike to Work Day is coming on Thursday, May 14, 2009. LA Metro expects a record number of participants to enjoy a relaxing, healthy, green bicycle ride to work. To pledge and be entered to win fabulous prizes, or just to learn more, go to www.metro.net/biketowork.

New on the CORBA Website
---
Join or Renew your membership

today on our membership web page.

Join Our Team! Do you have any ideas about mountain biking recreation in the L.A. region? Would you like to apply your skills and manage projects that contribute to the sport and lifestyle that you love? Is there an advocate in you? We are recruiting motivated individuals who work well with others. Send an email to info@corbamtb.com or come to a monthly Members Meeting to find out more about what we do and how you can help. Check the calendar for the next meeting.

Other simple ways to support CORBA

(Click on the links above to get more details!)
---
You are subscribed to the CORBA News e mail list. To unsubscribe, send an e mail to corbanews-unsubscribe@corbamtb.com
Please do not reply to this email as the corbanews mailbox is not monitored by people. To contact CORBA, email to info@corbamtb.com or visit our 'Contact Us' page for other addresses.