CORBA eTerraTimes for January 2018
If this email message is not displaying correctly, it will display properly for you on this web page.

In this issue...

January 6th, 2018
February 3rd


Welcome to 2018!
News from the CORBA Website Blog since the previous eTerraTimes
Clearing brush on the BBT east of Kanan Rd in April 2016 On Saturday Jan 13, CORBA and the Santa Monica Mountains Trails Council will be working together to restore the Backbone Trail from Kanan Road east towards Newton Motorway. We worked here in the spring of 2016, less than two years ago, inst...
Building a berm on a trailside bike feature This past weekend the holidays seemed to come into full swing, and there was a lot of giving. On Saturday morning, members of our Sapwi Bike park committee gave their time building the first trailside feature at Sapwi Bike Park. Contractors have cleared...
Like last month, we had 8 riders on a sunny day in the park. A couple of the riders had to leave half way through for another appointment, but said they'd be back for the January class. Again we rode through the creek, which is completely dry, and most riders went down the steps on the way to the...
On Tuesday, December 5th there are two conflicting public meetings of interest to those who ride bicycles in the San Gabriel Mountains or the San Gabriel Valley. San Gabriel River Confluence with Cattle Canyon Improvements Project The other public meeting is to seek public input on the Draft Envi...
Over 20 volunteers, including 9 from CORBA, 8 from Girlz Gone Riding and 6 from the Santa Monica Mountains Trails Council, worked for four hours this past Saturday morning to fix up a seriously degraded part of Crags Road in Malibu Creek State Park. This section, just before the M*A*S*H site, is ...
This month we had only 8 riders on a sunny day in the park. A couple of the riders didn't participate in many of the skills. Again we rode through the creek, which is completely dry, but we did not go down the steps. And again, Graham was covering for Steve who's bike was temporarily out of commi...
IMBA's Dig In campaign is live! Our Sapwi Bike Park project is moving forward and you can help make it happen sooner. Sapwi Bike Park will be free to the public, featuring jumps, drops, pump tracks, flow lines, trails, and as much stoke factor as you can have on a bike!
We've received a generous grant from REI to get us going, but to make this a reality we need to raise much more.
Visit: https://win.imba.com/digin?chapter=223846 and make a donation towards building a new, free community bike park in Thousand Oaks. There are 68 projects to which you can donate, so be sure to choose CORBA's Sapwi Bike Park.
It doesn't matter how big or small your donation, every cent counts.
Monthly CORBA Meeting at REI in Woodland Hills
Come and join us to learn about current issues and let us know what concerns you! Always open to the public, the CORBA Board of Directors' meeting is held the 4th Monday of the month in Woodland Hills. REI is kind enough to let us use their meeting room, for which we thank them profusely!
Every month (except December, when we have no meeting), we discuss these topics:
Issues of trail access for mountain bikers
Mountain bike advocacy and ambassadorship
Public involvement
The latest news from the land managers, including State Parks and National Park Service
Trail building and restoration
Furthering woman's mountain biking
Bike parks and other dedicated mountain bike facilities or trails
Education and etiquette
Anything brought forward by members of the public
The meetings are 6 – 8 pm at the REI in Woodland Hills (Google Map and Directions):
6220 Topanga Canyon Blvd
Woodland Hills, CA 91367
P: (818) 703-5300
We look forward to seeing you there!
---

A recent Beginners' Ride had 16 participants. Would you like to join us too?
For a list of upcoming recreational rides, please visit the CORBA Calendar.
CORBA's Club Rides calendar provides a full monthly schedule of mountain bike rides for all skill levels. Mountain bike rides are organized by CORBA member clubs and led by experienced and knowledgeable guides. Recreational rides are a fun and social way to experience a variety of trails in Los Angeles and Ventura counties, and beyond.
---
Upcoming Trail Restoration and Reports on Past Workdays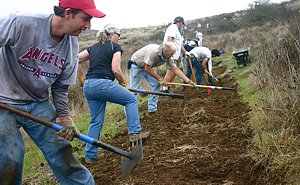 For many years, most trail upkeep has been done by volunteers because of budget cutbacks at our parks systems. So come out and help CORBA and other volunteers keep our trails in top riding shape! You can learn more about what to expect and what you'll need to bring with you on our Trailwork web page.
A number of companies and volunteer organizations have asked us if they could do trailwork as a team building exercise, or just to give back to the community. We are happy to work with such groups - shoot us an enquiry at trailwork@corbamtb.com for more information!
For CORBA workdays, we provide lunch for participants after we're finished. Please register in advance to help us prepare by knowing how many volunteers to expect.
Parents/guardians are responsible for minors at all times, and they must constantly and directly supervise children under 14. Children must be over 7-years old to attend. Please leave your four-legged friends at home!
Saturday January 13, 2018: Backbone Trail Restoration from Kanan. We'll climb up over the highway towards the east then clear brush and clean out drains that have been clogged since the last time we were here less than two years ago. Please register online so we'll know how many people to expect. Full details are also available on the registration page.
'Creek of Doom' trailwork on November 11. Over 20 volunteers, including 9 from CORBA, 8 from Girlz Gone Riding and 6 from the Santa Monica Mountains Trails Council, worked for four hours this past Saturday morning to fix up a seriously degraded part of Crags Road in Malibu Creek State Park. This section, just before the M*A*S*H site, is fondly known at the 'Creek of Doom' or the 'Rock Garden' because of the rocky and narrow nature of the trail, going along the edge, and then the middle, of the dry creek bed. Overall, almost a half mile of trail was restored. This included about 100' of narrow, rocky and off-camber trail where very large rocks were dug out and used to build up a section about 20' long that had almost completely disappeared into the creek. See the complete summary in our trailwork blog article.
To see all trailwork dates, including those of other groups, visit the CORBA calendar.
Join our mailing list to get updates on trailwork opportunities!
Send an email to Trailwork-Volunteers+subscribe@corbamtb.com
---
E-MTBs Prohibited from Malibu Creek, Point Mugu and Will Rogers State Parks
On September 13, 2017, California State Parks Angeles District Superintendent Craig Sap issued order 915-17-02, closing all trails in the Angeles District to electric bicycles. This includes multi-use trails in Malibu Creek State Park, Topanga State Park, Will Rogers State Park, and Point Mugu State Park.
Electric mountain bikes are already prohibited from Mountains Recreation and Conservation Authority and National Park Service trails. Some trails and many popular bike routes in the Santa Monicas cross more than one of these jurisdictions. This had led to confusion as to where e-MTBs were allowed. Sap's order states that consistency with neighboring jurisdictions is part of the justification used.
To see the rest of the article, visit CORBA's blog post on it. Editor's note: This blog has generated more comments that probably any other blog we've posted. They all seem to be in support of eBikes. Take a look at them and join the conversation!
---
Free Mountain Biking Skills Clinic
Saturday November 4th is the next skills clinic.
The CORBA free skills clinic is held on the first Saturday of every month at Malibu Creek State Park.
Mountain biking is a lot like tennis or skiing. Just a few minor adjustments in technique can make a huge difference in your control and proficiency. If you want to get better faster, you need to know the fundamentals of mountain biking technique. Whether you're just getting into mountain biking or have been riding for years, you'll learn some valuable tips from our Introduction to Mountain Biking skills class that is offered each month. Check out our Skills Clinic web page for all the information. After the clinic, see photos of your new skills on the CORBA web site that you can share with your family and friends!
---
Follow CORBA on Meetup, Twitter and Facebook
We have set up accounts with Twitter and Facebook to help keep people informed of the latest developments in our trail advocacy, recreational rides and trailwork days. Join our events on Meetup meetup.com/CORBAmtb and follow us on Twitter at twitter.com/CORBAmtb and Facebook at facebook.com/CORBAMTB.
Get Our Blog Articles Delivered to Your Desktop
Have you ever wished you could get our blog articles without having to check the CORBA website every day to see if there's anything new? Well, you can! Even though our blog software won't send articles by email, you can still get them delivered to the inbox of most email readers like Microsoft Outlook. You use the "RSS feed" functionality for this. In fact, you can read our articles in any software that receives RSS feeds, such as Internet Explorer and other web browsers. This blog article on RSS feeds shows you how.
---
Join or Renew your membership today on our membership web page.
Join Our Team! Do you have any ideas about mountain biking recreation in the L.A. region? Would you like to apply your skills and manage projects that contribute to the sport and lifestyle that you love? Is there an advocate in you? We are recruiting motivated individuals who work well with others. Send an email to info@corbamtb.com or come to a monthly Members Meeting to find out more about what we do and how you can help. Check the calendar for the next meeting.
Another simple way to support CORBA
Amazon.com: Buy online and Amazon will donate to CORBA through their Smile program
(Click on the links above to get more details!)
---
Please do not reply to this email as the corbanews mailbox is not monitored by people. To contact CORBA, email to info@corbamtb.com or visit our 'Contact Us' page for other addresses.