CORBA eTerraTimes for January 2013
If this email message is not displaying correctly, it will display properly for you on this web page.

In this issue...


Join us for the Ride and Mingle on December 15th to The Hub in Topanga State Park. See Story and the Video...
New on the CORBA Website

A Message from CORBA's President
WHAT WE DID IN 2002 By Mark Langton
No, that's not a typo. What we did in 2012 is what we did in 2002, and 1992. Of course, it is usually at this time of year where we talk about "things we did" in the past year. I can point to the thousands of hours of volunteer work that has included trail building, maintenance, and repair on many miles of trails; free mountain bike skills classes for hundreds of local mountain bikers; Youth Adventures and Kids Club rides which exposed kids to the wonders of our mountains from the saddle of a mountain bike; and thousands of hours of advocacy efforts working with land managers, attending public meetings, and analyzing and commenting on environmental and administrative documents to help keep trails open and increase shared use opportunities. But numbers are only part of the story.
So much of what we did and continue to do is behind the scenes. For example, our quarterly meetings with National Park Service and California State Parks land managers maintain a vital and vibrant link between the agencies and the mountain bike community. So when I hear someone say something to the effect of "what has CORBA done lately?" or "CORBA really hasn't done anything", I simply smile and say, what we did "lately" was create CORBA 25 years ago. And what what we have accomplished is to have literally kept trails open to mountain biking and opened up many more that probably would not have been designated for bicycles.
Back in 1987 there were powerful opponents to bicycles being on trails, and the land managers were not prepared for this "new" activity on their open space trails. Land managers were hesitant to (See the rest of this article on our blog...)
Q & A With New Nat'l Recreation Area Superintendent Jan. 26
Newly appointed Superintendent of the Santa Monica Mountains National Recreation Area (SMMNRA) David Szymanski, along with several National Park Service and State Park representatives, will be available for a question and answer session this January 26 from 2:00-4:00pm at Paramount Ranch in Agoura Hills.
Presented by CORBA, this will be an opportunity to ask questions directly and discuss such issues as the future of the SMMNRA, improving user safety and minimizing conflicts, and creating a backcountry community through stewardship. This is a unique opportunity to meet our top land management representatives one-on-one and get a better sense of what the SMMNRA is going to look like in the next 10-15 years, especially on the brink of the final phases of the new Trail Management Plan.
It is important to have a strong showing from the mountain bike community to show our interest and commitment to working with land managers in the SMMNRA.
Ride and Mingle from December 15th
Last month's Ride and Mingle was a great success, with plenty of good-natured conversation, some brief but important PSA's about trail etiquette, great riding to incredible vista points, and a bunch of happy prize winners. Plus the perfect weather and remarkably clear views made the day extra special. Thanks everyone who came out to allow us to thank you for your support of CORBA. Watch the video!
Photos of the event and riders can be viewed at our RAM photo gallery.
25-Year Jerseys: Now in Stock at the CORBA Store!
CORBA's 25th anniversary jerseys are now available at the CORBA store! Celebrating 25 years of CORBA's mountain biking and trails advocacy, these attractive forest green and gold jerseys are availble in BMX and club cut. Also, the 25-year anniversary socks have arrived. To round out your wardrobe of support for CORBA, we still have some 25-year T-shirts available. So go to the online CORBA store, order some new duds and show your friends you care about the future of mountain biking!
---

September's Beginners' Ride had 16 participants. Would you or a new rider you know like to join us too?
For a list of upcoming recreational rides, please visit the CORBA Calendar.
CORBA's Recreational Rides calendar provides a full monthly schedule of mountain bike rides for all skill levels. Mountain bike rides are organized by CORBA member clubs and led by experienced and knowledgeable guides. Recreational rides are a fun and social way to experience a variety of trails in Los Angeles and Ventura counties, and beyond.
---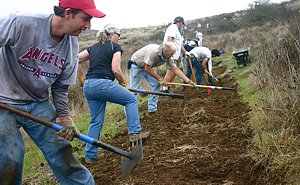 Upcoming and Recent Trailwork
For many years, most trailwork has been done by volunteers because of budget cutbacks at our parks systems. So come out and help CORBA and other volunteers keep our trails in top riding shape! You can learn more about what to expect and what you'll need to bring with you on our Trailwork web page. Keep in mind that CORBA now provides prizes and lunch after the event for volunteers who register in advance! And by registering in advance, you'll help us prepare by knowing how many volunteers to expect. If you come out to two or more trailwork days in a year, we'll give you a cool long-sleeved CORBA trail crew shirt - be sure to ask for yours!
To see all trailwork dates, including those of other groups, visit the CORBA trailwork calendar.
Join our mailing list to get updates on trailwork opportunities!
Send an email to Trailwork-Volunteers+subscribe@corbamtb.com
---
Mountain Bike Unit 2013 Training Starts February 2
Calling all mountain bikers age 18 and over! The Mountain Bike Unit (MBU) is currently recruiting for its 2013 New Recruit Training Class. If you enjoy mountain biking and are interested in giving back to the community by volunteering some time to assist our understaffed Park Rangers in patrolling the parks, then the MBU may be just what you are looking for. The MBU supports and are sponsored by the National Park Service (NPS), California State Parks (CSP), and the Mountains Recreation and Conservation Authority (MRCA). See the rest of this article in our blog...
Girlz Gone Riding open ride February 9, 2013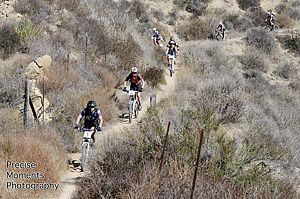 GGR on the advanced ride in October 2012
LADIES SAVE THE DATE!!!! SATURDAY, FEB 9TH!
GGR (girlz gone riding), will now be having quarterly open rides starting Saturday Feb 9th! A GGR open ride is open to ALL LEVELS especially encouraging beginners. The Feb 9th ride will be in Reseda and an event page will go up here mid January where you will need to sign up for the Open ride. Sign up IS required: https://www.facebook.com/groups/350083721682365/. We will have beginner, intermediate and advanced levels of XC rides that will combine both single track, double track and fire road. LADIES ONLY PLEASE….
Plan is to have 4 or 5 GGR OPEN rides per year in different locations. This is not only a great way to learn the trails, but meet other women your level to ride with! Let's have a blast and see the GGR jersey's out in full force! Sign up, helmets, mountain bikes, water and smiles required! Make sure to sign up on the GGR Face book page for all upcoming events and read our blog at www.girlzgoneriding.com.
Youth Mountain Bike Teams Give Back to SoCal Trails
When the Southern California High School Mountain Bike League was founded in 2008, its mission statement included the following: "Foster a responsible attitude toward the use of trails and wilderness." How to implement and encourage that part of the SoCal league's mission is still evolving, but its founder and executive director, Matt Gunnell, is launching a new initiative that could have a big impact on the future of trail advocacy.
In the spring of 2012, Gunnell organized a trail workday for the SoCal league, run by the Concerned Off-Road Bicyclists Association (CORBA), an IMBA Chapter based in Los Angeles. Sixty-five student bike racers from five area high school mountain bike teams volunteered their efforts in the Angeles National Forest. See the rest of this story in our blog...
---
Free Mountain Biking Skills Clinic
Saturday January 5 is the next skills clinic.
The CORBA free skills clinic is held on the first Saturday of every month at Malibu Creek State Park.
Mountain biking is a lot like tennis or skiing. Just a few minor adjustments in technique can make a huge difference in your control and proficiency. If you want to get better faster, you need to know the fundamentals of mountain biking technique. Whether you're just getting into mountain biking or have been riding for years, you'll learn some valuable tips from our Introduction to Mountain Biking skills class that is offered each month. Check out our Skills Clinic web page for all the information. After the clinic, see photos of your new skills on the CORBA web site that you can share with your family and friends!
---
Follow CORBA on Meetup, Twitter and Facebook
We have set up accounts with Twitter and Facebook to help keep people informed of the latest developments in our trail advocacy, recreational rides and trailwork days. Join our events on Meetup and follow us on Twitter at twitter.com/CORBAmtb and Facebook at facebook.com/CORBAMTB.
Get Our Blog Articles Delivered to Your Desktop
Have you ever wished you could get our blog articles without having to check the CORBA website every day to see if there's anything new? Well, you can! Even though our blog software won't send articles by email, you can still get them delivered to the inbox of most email readers like Microsoft Outlook. You use the "RSS feed" functionality for this. In fact, you can read our articles in any software that receives RSS feeds, such as Internet Explorer and other web browsers. This blog article on RSS feeds shows you how.
---
Join or Renew your membership today on our membership web page.
Join Our Team! Do you have any ideas about mountain biking recreation in the L.A. region? Would you like to apply your skills and manage projects that contribute to the sport and lifestyle that you love? Is there an advocate in you? We are recruiting motivated individuals who work well with others. Send an email to info@corbamtb.com or come to a monthly Members Meeting to find out more about what we do and how you can help. Check the calendar for the next meeting.
Other simple ways to support CORBA
REI: Use the link at left and REI will donate 5% of the purchase price to CORBA
Holmes Body Shop: Get that dent fixed and help CORBA
(Click on the links above to get more details!)
---
Please do not reply to this email as the corbanews mailbox is not monitored by people. To contact CORBA, email to info@corbamtb.com or visit our 'Contact Us' page for other addresses.