CORBA eTerraTimes for April 2012
If this email message is not displaying correctly, it will display properly for you on this web page.

In this issue...


Serving barbecued chicken, hot dogs and tri-tip at last year's Santa Monica Mountains Trail Days at Pt Mugu State Park / Sycamore Canyon. This year the event will be held April 27 - 29. See story...
A Message from CORBA's President
By Mark Langton
CORBA Board Member Bennett-Taber Resigns It is with great sadness that we must announce CORBA's Treasurer and one of its Directors, Danusia Bennet-Taber, has resigned her positions due to health concerns.
Danusia has been the backbone of CORBA for the past four years, keeping our books organized and up to date. She was also pivotal in navigating the transition to becoming an IMBA Chapter, working diligently with IMBA's IT department making sure our interests were represented. Additionally, for many years Danusia has been deeply involved with CORBA's programs including Youth Adventures, Take a Kid Mountain Biking Day, the Fat Tire Festival, and leading Beginner Rides. She has also been an active and avid member of the Mountain Bike Unit (MBU). We are losing a truly dedicated mountain bike advocate and wish her all the best in her future endeavors. We will "see her on the trails!"
---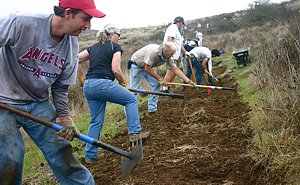 Upcoming and Recent Trailwork
For many years, most trailwork has been done by volunteers because of budget cutbacks at our parks systems. So come out and help CORBA and other volunteers keep our trails in top riding shape! You can learn more about what to expect and what you'll need to bring with you on our Trailwork web page. Keep in mind that CORBA now provides prizes and lunch after the event for volunteers who register in advance! And by registering in advance, you'll help us prepare by knowing how many volunteers to expect. If you come out to two or more trailwork days in a year, we'll give you a cool long-sleeved CORBA trail crew shirt - be sure to ask for yours!
Report on Guadalasca Trail in Pt. Mugu State Park
The March 17th trailwork day was cancelled because of rain. The next Guadalasca trailwork will be on Saturday, April 14, and is described below.
Report on COSCA Spring Trailwork Day
On March 24th, sixty-nine volunteers and several Conejo Open Space Conservation Agency (COSCA) rangers worked together to build 0.4 miles of a new 0.63-mile long singletrack, multi-use segment of the Canyon Overlook Trail. Among the volunteers were 11 mountain bikers representing CORBA. The new trail in Wildwood Park in Thousand Oaks starts at the Mesa Trail, passes below Lizard Rock and connects to an existing gas pipeline access road. This area was volcanic and the hillside is steep and quite rugged and rocky. See our blog entry for more detaills, photos and links to the photo gallery.
Saturday April 7, 2012: Brown Mountain
CORBA will be combining forces with the Friends of El Prieto, Pasadena Mountain Bike Club, and Mount Wilson Bicycling Association to invite So Cal High School league athetes, coaches and team managers to work on Upper Brown Mountain. This trailwork event is only for those groups. If you are a member of one of these groups, please register online to help out!
Saturday April 14, 2012: Guadalasca Trail in Pt. Mugu State Park
We will be returning to the Guadalasca Trail in Pt Mugu State Park to complete brush clearance on this very popular trail. This is the third scheduled trailwork day in preparation for a major reworking of the trail, including lengthening it by 0.25 to 0.5 miles. California State Parks has asked CORBA to organize volunteers for this work. We would like you to volunteer to help out! So we'll know how many tools to bring, please register online in advance. This time we will be starting at the top of the trail and removing the larger brush as we work our way to the bottom. The online registration form has the details on where and when to meet, and a description of all the improvements to be made to the trail. Thanks for helping out!
Fri-Sun April 27-29: Santa Monica Mountains Trail Days in Point Mugu State Park.
Once a year we have an opportunity to work on the trails and then BBQ and camp at Danielson Multiuse Area in Sycamore Canyon. It is opened annually for the Santa Monica Mountains Trail Days! This is a unique opportunity to work on the trails that we enjoy so much in Sycamore Canyon followed by a BBQ, prizes, and camping on Friday and/or Saturday night. This is hands down the best day to get in your trail maintenance work! Camping is optional, you may leave with the escort after the BBQ.
You can help out with trailwork on Saturday, Sunday, or volunteer to help in some other way. If you help out, you will be able to camp overnight for free at the Danielson Multiuse Area on Friday and/or Saturday night!
Please complete our online registration form in advance by April 24th. The online registration form has all the details of the weekend events, including where and when to meet to get into the park, and the activities you can sign up for.
To see all trailwork dates, including those of other groups, visit the CORBA trailwork calendar.
Join our mailing list to get updates on trailwork opportunities!
Send an email to Trailwork-Volunteers+subscribe@corbamtb.com
---
CORBA to Participate in Malibu Adventure Games April 28-29
The inaugural 2012 Malibu Adventure Games is a 2-day event featuring the XTERRA Malibu Creek Trail Runs, the Mountain Bike Poker Ride, the Sport Climb Knockout, and the Geocache Hunt.
The MTB Poker Ride takes participants past the park's most important landmarks, including the filming locations of Planet of the Apes and M*A*S*H. Riders start at their own discretion between 9:00 am and 11:00 am. It is a fun, 14-mile ride to five checkpoints where riders build their poker hand. The best poker hands win prizes. All participants will get the Malibu Adventure Games technical shirt.
The fun-filled XPO includes CORBA (Concerned Off Road Bicycling Association) Mountain Bike Skills Classes, a kids obstacle course (ages 2-7), rock climbing walls, outdoor and eco-friendly exhibitors, BBQ food, and FREE outdoor activity demonstrations, including climbing for beginners, wilderness camping, and slackline. State Park Docents will also be leading nature walks around the beautiful park throughout the day. Stick around for Movie Night at the park and watch the Planet of the Apes.
Proceeds from the Malibu Adventure Games benefit the Malibu Creek State Park. Volunteer opportunities are available as well.
For more information please visit www.MalibuAdventureGames.com.
New on the CORBA Website
For a list of upcoming recreational rides, please visit the CORBA Calendar.
CORBA's Recreational Rides calendar provides a full monthly schedule of mountain bike rides for all skill levels. Mountain bike rides are organized by CORBA member clubs and led by experienced and knowledgeable guides. Recreational rides are a fun and social way to experience a variety of trails in Los Angeles and Ventura counties, and beyond.
---
Free Mountain Biking Skills Clinic
Saturday April 7th is the next skills clinic.
The CORBA free skills clinic is held on the first Saturday of every month at Malibu Creek State Park.
Mountain biking is a lot like tennis or skiing. Just a few minor adjustments in technique can make a huge difference in your control and proficiency. If you want to get better faster, you need to know the fundamentals of mountain biking technique. Whether you're just getting into mountain biking or have been riding for years, you'll learn some valuable tips from our Introduction to Mountain Biking skills class that is offered each month. Check out our Skills Clinic web page for all the information. After the clinic, see photos of your new skills on the CORBA web site that you can share with your family and friends!
---
Follow CORBA on Twitter and Facebook

We have set up accounts with Twitter and Facebook to help keep people informed of the latest developments in our trail advocacy, recreational rides and trailwork days. Follow us on Twitter at twitter.com/CORBAmtb and Facebook at facebook.com/CORBAMTB.
Get Our Blog Articles Delivered to Your Desktop
Have you ever wished you could get our blog articles without having to check the CORBA website every day to see if there's anything new? Well, you can! Even though our blog software won't send articles by email, you can still get them delivered to the inbox of most email readers like Microsoft Outlook. You use the "RSS feed" functionality for this. In fact, you can read our articles in any software that receives RSS feeds, such as Internet Explorer and other web browsers. This blog article on RSS feeds shows you how.
---
Join or Renew your membership today on our membership web page.
Join Our Team! Do you have any ideas about mountain biking recreation in the L.A. region? Would you like to apply your skills and manage projects that contribute to the sport and lifestyle that you love? Is there an advocate in you? We are recruiting motivated individuals who work well with others. Send an email to info@corbamtb.com or come to a monthly Members Meeting to find out more about what we do and how you can help. Check the calendar for the next meeting.
Other simple ways to support CORBA
REI: Use the link at left and REI will donate 5% of the purchase price to CORBA
Ralphs grocery stores: Use your Ralphs card and help CORBA

Holmes Body Shop: Get that dent fixed and help CORBA

(Click on the links above to get more details!)

---

Please do not reply to this email as the corbanews mailbox is not monitored by people. To contact CORBA, email to info@corbamtb.com or visit our 'Contact Us' page for other addresses.