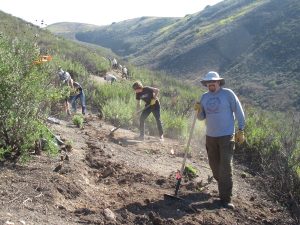 37 volunteers came out to start building the newest trail in the Conejo Valley on May 26th. We completed about 0.4 miles! When finished the trail will extend from the Westlake Village Community Park and YMCA up to the Saddle Pass Trail, a distance of 1.3 miles. Another trail, to be built after this one is complete, will return to the other side of the community park and will bring the total to 2.5 miles of new trail.
After trailwork on Saturday, we were treated to submarine sandwiches, soft drinks, chips, fruit, etc. by the COSCA rangers.
Thanks to all the volunteers who came out to help! To see more photos, visit our photo gallery of the bonus trailwork day.