| | |
| --- | --- |
| CORBA eTerraTimes for March 4, 2010 | |

If this email message is not displaying correctly, it will display properly for you on this web page.

In this issue...

A message from CORBA's President
Committees to Help with Organization and Advocacy

March 27: COSCA Spring Trailwork Day
April 23-25: Santa Monica Mtns Trails Day at Pt Mugu State Park
January 30: Review of Rogers Road Trailwork

Pt. Mugu State Park to Crack Down on Illegal Mountain Biking
Boulder Blocks Trail in Calabasas
National Park Service Sees Benefits of Bikes
Illegal Mountain Bike Trails Dismantled in Orange County
LA County Bike Plan Public Workshops
News from Palos Verdes
CORBA Has a New Calendar
Update on MBU Recruiting for 2010
New on the CORBA website

Get this eNewsletter as a PDF document!


Fifty MBU and a dozen MPV volunteer recruits attended their first class on Feb 13. See story.
A Message from CORBA's President
by Mark Langton
Dear CORBA Supporters,
Every year around this time I am reminded of the unique opportunities available to us in the Santa Monica Mountains National Recreation Area and surrounding open spaces. The recent rains have created a beautiful green blanket on our mountains, and the weather, despite the rain, is possibly the best of the year. Meanwhile, many people across the US are still buried under several feet of snow and can only dream of riding off-road in March.
This is also the time when many of us start thinking about getting back on the bike after not riding for a while due to the holidays or other commitments. Keep in mind that the rains have created new trail conditions, such as rain ruts, land slides, and increased foliage growth. And of course the Station Fire, which decimated a large portion of acreage in the Angeles National Forest, has caused several road and trail closures. It is your responsibility to find out the conditions of roads and trails, and to heed posted warnings at local trail heads.
As the coordinator and lead instructor for CORBA's Introduction to Mountain Bike Skills Clinic, this is also the time I start seeing an increase in attendees. When asked if the class is "for beginners," I say that even though we are going over fundamental skills, even people who have been riding for several years can benefit from the class. I've never met anyone over the 18 years we have been providing the class who has not gained some insight into their riding skills and technique.
In my February message I noted that CORBA has created several new committees which we hope to make the organization better at addressing the myriad tasks we are faced with in dealing with mountain bike and open space advocacy. One of these new committees is our Outreach Committee. Think of it as CORBA's marketing department. CORBA is in need of people with a background in public relations, marketing, and sales to help promote our programs and advocacy goals. In fact, you really don't need a background in those fields, just a desire to help CORBA get the word out that that mountain biking is a viable open space activity. It only takes a few hours a month, but will go a long way to making sure we have trails to enjoy for generations to come. If you're interested in getting involved you can contact me directly at markmtb@roadrunner.com. Thanks!
---
CORBA Committees to Help with Organization and Advocacy
by Steve Clark
Since it's inception in 1987, CORBA has relied heavily on the members of the Board of Directors to plan, organize and carry out a multitude of advocacy activities. We have been helped in many instances by our volunteers (trailwork and the Fat Tire Fest in particular), the MBU (Youth Adventures rides) and by partnering with other organizations with which we have shared interests.
But we still have a lot of work to do. Many good trails are still closed to mountain biking, including every trail and dirt road in LA City parks! Our opponents have lost none of their shrillness over the years. We have made a lot of progress and count many successes, but still we would like to speed up this process. To become a more effective and efficient organization, we are moving many of the key planning activites from the entire Board of Directors to a set of committees and task forces. Some of these will be permanent but many cover short-term projects and will be disbanded when their work is complete.
Committe or Task Force

General Mandate

Chair

Advocacy

Propose ways to promote trail access and mtn biking image

Open

Advocacy, Downhill Task Force

Work towards getting areas that can be legally used by downhillers; add enhanced features to multi-use trails

Hans Keifer

Advocacy, City of LA Task Force

Work to legalize dirt riding in LA City parks

Steve Messer

Communications

Propose best use of the internet to communicate CORBA's mission and activities

Steve Clark

Fat Tire Fest
(includes several task forces)

Organize and implement the annual Fat Tire Fest

Louisa Bonnie

Fundraising

Develop proposals for raising funds, including applying for grants

Open

Goals

Develop CORBA's organizational goals

Steve Clark

Operations and Administration

Oversee operations; document current procedures

Jeff Klinger

Outreach

Mark Langton

Outreach, Recreational Rides Task Force

Organize and promote Recreational Rides

Louisa Bonnie

Outreach, Kids Events

Suggest mtn biking activities for kids; organize and promote them

Open

Outreach, Skills Clinic

Run the monthly Basic Skills Clinic

Mark Langton

Trail Crew

Hans Keifer

Transparency

Provide public insight into our finances and accomplishments

Danusia Bennet-Taber

Youth Adventures

Youth Adventures is run jointly by CORBA and the MBU; operated by the MBU and financed by CORBA.

Jeff Klinger
We are looking for some good (enthusiastic, energenic, competent) people to help out on these committees. Membership in CORBA is prefered, but not required. This is how you will benefit

get the satisfaction of helping to defend and improve mountain biking opportunities, of helping to improve fitness and health, and of helping out the environment
get experience in planning and organization
beef up your resume. Employers are impressed by people who take leadership roles and do volunteer work to help out their community
As chair of the Communications Committee, I am looking for one or two people to help me out. We're looking for some people who are normal web surfers and perhaps have experience with social networking sites like Facebook and Twitter.
If you can spare a couple of hours a month or so to help us out with one of these committees, please get in touch with us at info@corbamtb.com. Thanks!
---
March 27: COSCA Spring Trailwork Day
The spring trailwork day is a chance to fix up some local trails that have been damaged by the winter rains. This year we will be repairing and improving the Mountain Creek Trail in Newbury Park that we helped build last year. Details.
April 23-25: Santa Monica Mountains Trails Days
This is a weekend event with CORBA, SMMTC and other trail user groups with camping at Danielson Ranch in Point Mugu State Park. You can come in Friday night and stay until Sunday or leave Saturday after trail maintenance. Some people just come in for Saturday. There will be a barbecue and raffle on Saturday evening. Informational flyer and registration form coming soon. Details.
January 30, 2010: Backbone Trailwork Day
On Saturday, January 30, CORBA volunteers had a very productive day out in the Santa Monica Mountains. Ten riders met us at the Reseda trailhead, four of us loaded up BOB trailers full of tools, and headed for
Rogers Road
in Topanga State Park. Trailers and bicycles allow us to travel further down the trail in a given amount of time and get more done in the same time as the other two groups who hiked in and worked on the first mile of the trail.
It was a cooperative trailwork day with the Sierra Club and Santa Monica Mountains Trails Council. These other groups stayed closer to the beginning of the trail.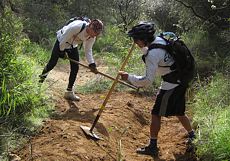 We rode to the Oak tree several miles in on the Backbone trail. Another five volunteers rode in from the south side and met us there. We hiked down about 3/4 of mile and went to work on this steeper and badly eroded section of trail. Most of what we did was erosion prevention, putting in new water diversions, and clearing out some older filled and blocked off ones.
After several hours of work, we had built and/or restored 40 water diversions, reinforced one section of trail that was eroding away completely, as well as some brush clearance. It was a productive day. Towing a trailer full of tools on the ride out adds an extra challenge, but can also be a lot of fun. CORBA's BOB trailers have earned their keep over the years.
CORBA treated the volunteers to lunch at Sharkey's afterwards, everyone feeling good about what was accomplished. When working with Sierra club and other groups on shared-use trails, it is always helpful to have a strong mountain bike contingency showing that we care for our trails as much as any other trail user group.
---
Pt. Mugu State Park to Crack Down on Illegal Mountain Biking
California State Parks is going to be more rigorously enforcing the regulations about riding on trails that are closed to bikes in Point Mugu State Park, commonly known as "Sycamore Canyon." New No Bicycles signs are being installed on the Ray Miller Trail (popular for night riding), Scenic and Fireline Trails. Rangers will be paying special attention to the Hidden Pond Trail.
Here is a list of trails that are closed to bikes in Pt Mugu State Park and other areas.
Boulder Blocks Trail in Calabasas
As a result of the rain we've had this winter, a boulder has slid down and blocked a switchback on the New Millennium Loop Trail in Calabasas. Most likely the rock will need to be carefully broken up into small pieces so that it doesn't cause more damage to the trail below it.
Cycling--and mountain biking--is a good thing according to the National Park Service
Illegal Mountain Bike Trails Dismantled in Orange County
from the Warrior's Society Weekly News (Feb 16)
Whiting Ranch Rangers and Irvine Ranch Conservancy staff has located an unauthorized mountain bike park in one of the canyons between Agua Chinon and Foothill Ranch. The site includes bench cut trails, wooden jumps, wooden bridges and a sand bag reinforced trail connecting from Mustard Trail all the way to the community.
This park was created after the Santiago Fire and was cut through cactus scrub habitat that has historically hosted nesting Cactus Wrens (the park was located while doing cactus restoration work for the Wrens).
Whiting Ranch Rangers are planning to remove the materials and dismantle the trails on February 20th at 8:00 a.m. They have engaged Oakley to assist and have about 12 people from Oakley. They have asked if the Irvine Ranch Conservancy would be willing to assist by generating volunteers.
Read more and see photos in the Los Angeles Times Blog or the Orange County Register
LA County Bike Plan Public Workshops
CORBA representatives have attended the first few meetings and have learned that the County bike plan does not include any off-road components or trails. Those are to be covered separately under the LA County Parks And Recreation Department's planning process.
We understand that many mountain bikers and CORBA supporters also ride on the road, and that many of the trailheads to which we ride are on unincorporated LA County land. We recommend visiting http://lacountybikeplan.org to see if areas near you are covered. If you can't attend the meetings you can make comments online at http://lacountybikeplan.org. Especially let them know if there are trailheads to which you would ride if it were safer and more convenient, or routes to destinations such as schools, parks, etc.
This first round of meetings is for information gathering purposes. At each meeting there are maps on which you can draw potential bike lane routes, bike path routes, and make notes about existing road conditions for cyclists.
There will be a second round of public meetings in late spring/early summer at which people will have an opportunity to further refine and comment upon the draft plan.
Here is the list of upcoming first-round meetings:
March 4, 2010
6:30 p.m - 8:00 p.m.
Las Virgenes Municipal Water District
4232 Las Virgenes Road
Calabasas, CA 91302

March 8, 2010
6:00 p.m - 7:30 p.m.
A.C. Bilbrew Library
150 E. El Segundo Blvd.
Los Angeles, CA 90061

March 10, 2010
6:00 p.m - 7:30 p.m.
Marina del Rey Library
4533 Admiralty Way
Marina del Rey, CA 90292

March 24, 2010
6:00 p.m - 7:30 p.m.
East Los Angeles Library
4837 E. Third Street
Los Angeles, CA 90022

March 25, 2010
7:00 p.m - 9:00 p.m.
Fire Station 129 (Association of Rural Town Councils Meeting)
42110 6th Street West
Lancaster, CA 93534
For more details, view the full workshop schedule.
from Katy Endicott, CORBA Palos Verdes
Another 200 acres of open space was obtained in December by the City of Rancho Palos Verdes and the
Palos Verdes Peninsula Land Conservancy
(PVPLC). This parcel will connect the popular Portuguese Bend and Three Sisters Reserves. After years of negotations with the land owners, the result is a most happy one for open space fans. With the city's impending formation of a trails committee representing all user groups, CORBA PV has high hopes for more bicycle access.
PVPLC posted its spring workday schedule at http://www.pvplc.org/calendar.shtml. Three workdays are scheduled for weeding and planting at the Three Sisters Reserve: Mar. 6, Apr. 7 and May 8. Workdays are from 9:00 a.m. to noon. Anyone interested in these dates can check pvplc.org or e-mail info@mtbpv.org for more information.
We have moved to Google Calendars to display our activities. You can access it on our home page from the menu bar or from the calendar image, shown at right. Why change? There are a number of advantages:

Entries are color-coded by activity type, making it easier to find the kind of event you're looking for
You can copy our activities to your own Google calendar and add alerts for yourself
You can display our whole calendar on your own Google calendar
We can display events from other organizations that use Google calendars. So far we have rides from two clubs, the North Ranch Mountain Bikers and Over the Bars Mtn Bike Club
For CORBA volunteers, it's much easier to administer these calendars
If you belong to an organization that uses a Google calendar to publicize activities, let us know and we'll consider adding it to our collection. Contact us at info@corbamtb.com.
Update on MBU Recruiting for 2010
from Joseph Lang
The MBU Training Team recently conducted its first official training class for its new 2010 Recruits Team. On Feb. 13th, the MBU Training Team greeted over 50 new Mountain Bike Unit plus another dozen or so MVP (Mounted Volunteer Patrol) recruits. Starting in 2009, the MBU and MVP successfully combined its main training classes in an effort to gain synergies and efficiencies as much of the training material for the two organizations was very similar. Feb. 13th was focused on training specific to the National Park Service - the training included everything from the history of the NPS, proper Radio Protocol, Park rules to visitor contact skills, all of which was provided by several NPS Rangers. The next MBU Training Class is scheduled for March 13th and will focus on specific instruction provided by Rangers from the Mountain Recreation & Conservancy Authority (MRCA). The April 10th MBU Training Class will focus on California State Parks and finally, May 15th will be the final Scenario Day and Graduation for the 2010 MBU Class.

For more details, visit the MBU training web page. To see the MBU in action, view our gallery of MBU photos.

New on the CORBA Website
---
For a list of upcoming recreational rides, please visit the CORBA Calendar.
---
Free Mountain Biking Skills Clinic
Saturday March 6th is the next skills clinic.
The
CORBA free skills clinic is held on the first Saturday of every month at Malibu Creek State Park.
Mountain biking is a lot like tennis or skiing. Just a few minor adjustments in technique can make a huge difference in your control and proficiency. If you want to get better faster, you need to know the fundamentals of mountain biking technique. Whether you're just getting into mountain biking or have been riding for years, you'll learn some valuable tips from our Introduction to Mountain Biking skills class that is offered each month. Check out our Skills Clinic web page for all the information. After the clinic, see photos of your new skills on the CORBA web site that you can share with your family and friends!
CORBA holds a recreational bike ride for beginners the second Saturday of every month, a week after the Skills Clinic. This is the perfect opportunity for the clinic attendees to practice their new skills! But you don't need to attend the Skills Clinic before you come on this ride; everyone is welcome. This is a great ride for first-timers to the CORBA recreational rides. The ride leader will go over the basics of riding a mountain bike along the route. Check the Calendar for details.
---
Follow CORBA on Twitter
We have set up an account with Twitter to help keep people informed of the latest developments in our trail advocacy, recreational rides and trailwork days. Follow us on Twitter at twitter.com/CORBAmtb.
---
Join or Renew your membership

today on our membership web page.

Join Our Team! Do you have any ideas about mountain biking recreation in the L.A. region? Would you like to apply your skills and manage projects that contribute to the sport and lifestyle that you love? Is there an advocate in you? We are recruiting motivated individuals who work well with others. Send an email to info@corbamtb.com or come to a monthly Members Meeting to find out more about what we do and how you can help. Check the calendar for the next meeting.

Other simple ways to support CORBA

(Click on the links above to get more details!)
---
You are subscribed to the CORBA News e mail list. To unsubscribe, send an e mail to corbanews-unsubscribe@corbamtb.com
Please do not reply to this email as the corbanews mailbox is not monitored by people. To contact CORBA, email to info@corbamtb.com or visit our 'Contact Us' page for other addresses.