| | |
| --- | --- |
| CORBA eNews for September 3, 2009 | |

A young girl aces the skills features at last year's
Fat Tire Fest.
If this email message is not displaying correctly, it will display properly for you on this web page.
In this issue...
Get this eNewsletter as a PDF document!
---
Sullivan Canyon Closes Temporarily
The Southern California Gas Company will be rebuilding their road in Sullivan Canyon and then reinforcing the high pressure gas pipelines. The work is scheduled to start September 1 and continue through October or longer. During the work period, the canyon will be completely closed to ensure the safety of the public in a construction area. For more information, see the recent Sullivan Canyon Alert on our Trail Issues page.
---
Follow CORBA on Twitter
We have set up an account with Twitter to help keep people informed of the lastest developments in our trail advocacy, the Fat Tire Fest, recreational rides and trailwork days. Follow us on Twitter at twitter.com/CORBAmtb.
Take A Kid Mountain Biking Day - Saturday October 3.
In conjunction with the IMBA's Take a Kid Mountain Biking Day event, CORBA will be having a fun ride at Malibu Creek State Park at 9:00 am. The ride will be followed by a barbecue. Kids must have their own bikes and helmets. All ages are welcome! If your Kids are too young to ride, feel free to bring a bike trailer or trail-a-bike and tow them along. These can be your own kids, nieces, nephews, friends kids, neighbor's kids... There will be a few different ride options for different age groups. Feel free to participate even if you don't have any kids to bring.
Childhood obesity in the United States has reached an all-time high. Experts say that the current generation of U.S. children could actually have a shorter life expectancy than their parents. IMBA and CORBA believe mountain biking can help reverse this trend. We need your help to get kids back on bikes. Please RSVP to Danusia at danusia@corbamtb.com if you plan on attending.
Not sure how much your kids will love this? You can view photos from the 2008 event in our photos gallery.
Fire in Pt Mugu State Park (Sycamore Canyon)
by Danusia Taber, CORBA Board of Directors and Mountain Bike Unit volunteer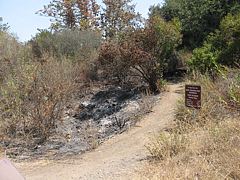 Due to quick action, Monday's fire was contained to a small area between the Upper Sycamore Trail and the bridge at the bottom of the Blacktop Hill.
What started as an early ride Monday in Sycamore Canyon on a hot day quickly turned into an emergency after receiving a report of smoke seen near the bridge at the bottom of the infamous black paved hill. I was still at the top of the hill and quickly analyzed the situation. The weather was dry and hot with significant wind blowing into the canyon. Fire, if the report was accurate, could spread quickly. But do I report something I didn't verify myself? Should I ride down the hill where I have no phone coverage to verify this report? What about hikers, runner and bikers that are going to follow me? Is it safe for me? Is it safe for them? Is my house in Newbury Park going to burn if I delay this report? This is when my Mountain Bike Unit training came really handy. I called for help and stopped other people from going down the canyon. The report from next person emerging from the canyon was not so good - Fire was spreading, visible flames…. I was so glad that help was on its way! Within 5 minutes I heard the sirens of approaching fire engines. At least five fire engines plus support vehicles and even a sheriff's squad car arrived at the scene. Thanks to the quick response by our local fire fighters this fire only burned one acre and the wooden bridge was saved.
Later that day I received an email from California State Parks ranger Tony Hoffman, thanking me and offering a very important tip that I would like to share with you. His email verified that I made the right decision.
"Thanks for investigating and reporting the wildfire this morning. I just wanted you to know that for reports of wildfire it is best to report the fire before investigating to see if it is real as wildfires can become pretty big and ugly very fast (especially during Red Flag Warnings) and every minute counts. Also we wouldn't want to endanger you in any way as you are irreplaceable."
Fire in Rancho Palos Verdes
by Troy Braswell
A fast-moving brush fire burned 230 acres in the Portuguese Bend area of Rancho Palos Verdes on August 26th, damaging at least six homes and forcing the evacuation of some residents and horses. The most popular riding area in Palos Verdes now resembles a moonscape. Fortunately, fires are part of nature, and plant life will recover. Local CORBA volunteers, who have already contributed hundreds of hours maintaining trails, will have much work to do. It is not known if this event will have any impact on the final trails use plan scheduled to be approved by the city council soon.
Fire and Red Flag Warnings
As autumn approaches with hot, dry Santa Ana winds, remember to check for park closures before you head for your favorite trail. During the Red Flag conditions, park agencies are asking the public to avoid going into the backcountry. With the fire danger rating fluctuating between high and extremely high it is prudent for recreational users to avoid going into the backcountry for safety reasons. If fires were to start in areas of the backcountry, rescue could be hampered because of poor access to these areas. Also, it could be difficult to notify recreational users who are already in the backcountry of a wildfire that has just started. So as a preventative measure, fire information officers are advising everyone not to head to these remote areas unless it's absolutely necessary.
Here's where you can check for park closures:
Participate in San Gabriel Mountains Planning
by Jim Hasenauer
Before becoming Secretary of Labor, Congresswoman Hilda Solis created a congressional study of the special management needs of the San Gabriel Mountains and Puente-Chino Hills. NPS folks conducted the study and are offering three alternatives for comment at upcoming public meetings. Some of these meetings are pretty close to the fire zone, but they haven't been cancelled yet.
An article on our Current Trail Issues page gives the background and lists the public meeting times and locations.
The Angeles National Forest had just completed its comprehensive forest planing, so it's difficult to determine what the advantages of this planning are, but it could mean more resources to meet the land protection and recreation needs here in Southern California. Three alternatives identify different levels of NPS involvement with the San Gabriels. The Sierra Club is urging members to get involved because it could mean more Wilderness in the San Gabes, although that course of action isn't clearly specified in any of the 3 alternatives.
CORBA urges bicyclists to participate in this important planning either in person, online or both. Our message:
Protect the San Gabriel Mountains and Puente-Chino Hills Open Space;
Continue to develop a range of opportunities for mountain bikes and other forms of appropriate recreation;
Implement the Forest Plan;
No new Wilderness if it closes trails to bikes, find alternative protections.
New on the CORBA Website
---
CORBA's Fat Tire Fest -
October 25, 2009
The 2009 CORBA Fat Tire Fest is coming!! Sunday October 25th at Castaic Lake! We are pleased to announce our great sponsors who are generously supporting CORBA's 22nd annual Fat Tire Fest fundraiser!
REI will be coming out their bike tech and their demo Novara mountain bikes for every kind of rider from recreational to expert.They have the bike for you !
Giant Bicycles will be bringing their big demo trailer and exhibit with all the hottest 2010 demo bikes. Jump on board the Anthem X for a test ride in Grasshopper Canyon or fly down the Grapevine Trail on a DH Glory! Giant will also be bringing road bikes from their Competition, Performance and Fitness Road Groups.

Demos not to be missed will be Specialized's fastest lightest mountain bikes to hit the trail like the Enduro SL, Stumpjumper S-Works. Check out their efficient effortless handling on the Deer Trail and sailing along the single tracks on upper Lake Castaic ! Not only that but you can WIN a Specialized Rockhopper Expert 29er in the Fat Tire Fest giant raffle!

Cannondale will also be joining us as a CORBA Fat Tire Fest sponsor this year bringing their all mountain Moto Carbon 1 and XC Scalpel Carbon Team and other bikes for you to put through their paces on the Westridge Trail or the Pros Uphill challenge. Cannondale will also be donating a bike for the CORBA FTF raffle!
The Mutano Raptor and Weir Wolf tires are just a few of the amazing products that WTB, the 2009 Fat Tire Fest's newest sponsor, offers you for making every ride a great one! Check their latest gear at their exhibit on October 25th!

Cynergy Cycles of Santa Monica sponsors the Fat Tire Fest bringing participants the Cynergy Hill Climb contest and great prizes for the fastest time! Cynergy will be coming out with demo bikes for all tastes whether you love to downhill, XC or cruise the strand!
Events for this year's Fat Tire Fest will include a special KIDS ZONE where little riders 12 and under can test their skills and then have fun on the SCAVENGER HUNT!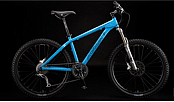 Santa Cruz Bicycles has generously donated a Santa Cruz Chameleon that YOU CAN WIN in the CORBA Fat Tire Fest Raffle!! So register NOW or join or renew your CORBA membership and get more free raffle tickets and increase your chances of winning this awesome bike!
Bike Warrior returns with the ever popular Wheelie Contest and grand prize! Bike Warrior will also have on hand Scott bikes for you to demo.
Trek will be out at the Fat Tire Fest with their Womens Specific demo trailer and all kinds of specially designed bikes for women! You go girl!
Helen's Cycles, LA's largest bike shop will be exhibiting again this year and bringing great bikes and gear to check out.
Come out and join CORBA's 22nd Annual Fat Tire Fest and Fundraiser on Sunday October 25th at Castaic Lake State Recreation Area for a fun filled day of mountain bike games and action - demos, poker rides, prizes, catered lunch, the skills features area and much much more!!! Come out and support mountain bike trail access in Los Angeles and the surrounding area! For all the latest prizes, exhibitors, sponsors, updates and events got to: www.fattirefest.com.
Register online until October 20th with PayPal or Active.com; register early and get more free raffle tickets!
---
September 19th: Trail work on the Ken Burton Trail may be rescheduled due to the Station fire. Check the CORBA calendar for an updated information as the date gets closer.
Why do Trailwork? If you've ever wondered this, take a look at this article in the Summer 2008 issue of Terra Times to learn more about why it's important. Visit the CORBA Trail Crew page for more information and links to photos of past events.
---
For a list of upcoming recreational rides, please visit the CORBA Calendar.
---
Free Mountain Biking Skills Clinic
Saturday September 5 is the next skills clinic.
The CORBA free skills clinic is held on the first Saturday of every month at Malibu Creek State Park.
Mountain biking is a lot like tennis or skiing. Just a few minor adjustments in technique can make a huge difference in your control and proficiency. If you want to get better faster, you need to know the fundamentals of mountain biking technique. Whether you're just getting into mountain biking or have been riding for years, you'll learn some valuable tips from our Introduction to Mountain Biking skills class that is offered each month. Check out our Skills Clinic web page for all the information. After the clinic, see photos of your new skills on the CORBA web site that you can share with your family and friends!
CORBA holds a recreational bike ride for beginners the second Saturday of every month, a week after the Skills Clinic. This is the perfect opportunity for the clinic attendees to practice their new skills! But you don't need to attend the Skills Clinic before you come on this ride; everyone is welcome. This is a great ride for first-timers to the CORBA recreational rides. The ride leader will go over the basics of riding a mountain bike along the route. Check the Calendar for details.
---
Join or Renew your membership

today on our membership web page.

Join Our Team! Do you have any ideas about mountain biking recreation in the L.A. region? Would you like to apply your skills and manage projects that contribute to the sport and lifestyle that you love? Is there an advocate in you? We are recruiting motivated individuals who work well with others. Send an email to info@corbamtb.com or come to a monthly Members Meeting to find out more about what we do and how you can help. Check the calendar for the next meeting.

Other simple ways to support CORBA

(Click on the links above to get more details!)
---
You are subscribed to the CORBA News e mail list. To unsubscribe, send an e mail to corbanews-unsubscribe@corbamtb.com
Please do not reply to this email as the corbanews mailbox is not monitored by people. To contact CORBA, email to info@corbamtb.com or visit our 'Contact Us' page for other addresses.