CORBA eNews for November 7, 2008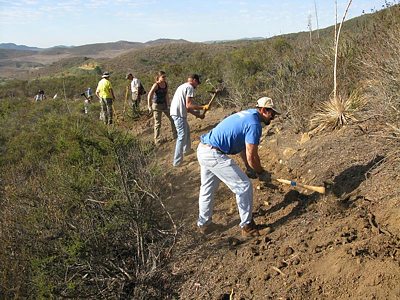 Working on the Reino Trail on the COSCA Trailwork Day
October 18, 2008
If this email message is not displaying correctly, it will display properly for you on this web page.
In this issue...
Join Our Team! Do you have any ideas about mountain biking recreation in the L.A. region? Would you like to apply your skills and manage projects that contribute to the sport and lifestyle that you love? Is there an advocate in you? We are recruiting motivated individuals who work well with others. Send an email to info@corbamtb.com or come to a monthly Members Meeting to find out more about what we do and how you can help. The meeting is normally on the third Wednesday of the month. The next meeting is November 19th. Check the calendar for details and possible last-minute changes.
Recommend a new member and you both get a pair of Ergon GP1 handlebar grips, a $30 value!
Ergon USA, a leader at improving mountain biking performance and comfort, is donating up to 30 pairs of handlebar grips to be used to help recruit new members to CORBA. Between now and December 20th new members will receive free grips while supplies last! Not only that, current CORBA members will receive a pair of grips if they recommend someone who joins CORBA! Hurry, sign up now, and get your friends to sign up, before we run out!
Details
The grips are model GP1, available in small or large, black or team green. These grips cost $30 in stores.
To qualify for free grips, new members must sign up and pay their dues on or before December 20th
You must not have been a member of CORBA for at least the past year
Not valid for current members who are renewing
Only two pairs of grips will be given for a family membership
This promotion expires December 20th, or when 30 pairs of grips have been given away, whichever occurs first
If you join online, send an email after paying your dues to info@corbamtb.com specifying your name, address and the size and color of grips you would like to recieve. The name must match the name you used to join online!
If you join by mailing in the paper form, include a note with the size and color of the grips you would like to receive
If a current CORBA member urged you to join so that you too can help support trail advocacy, and so they could score some cool free grips, include the name and address of that person when requesting your own grips, and the size/color your friend would like to receive
Current CORBA members can win only one pair of grips no matter how many of your friends join. But don't let that disuade you from helping your friends help us help you enjoy the trails you love so much!
The cost of these Ergon GP1 grips is five dollars more than the cost of a CORBA membership so we don't expect these grips to be available for long. Act now so you don't lose out!
---
Mark your calendars! The date for the 2009 Fat Tire Fest and CORBA birthday celebration has been set for
Sunday October 25, 2009. Don't miss it!

The photo and video galleries are complete for the 2008 Fat Tire Fest. Check them out!
---
Why do Trailwork? If you've ever wondered this, take a look at this article in the Summer 2008 issue of Terra Times to learn more about why it's important.
December 6 - El Prieto Trail.
El Preito is the most popular trail in the Angeles and is showing some wear. Come on out and lend a hand! The El Prieto Trail is in the Angeles Forest just above Pasadena. We will meet in the parking lot at the corner of Windsor and Ventura Streets just above JPL at 8:00 am. We will drive up from there to the work site. Another option is to ride your bike up. If you want to ride in just let us know so we can be sure to have enough tools for everyone. We will work until 1:15 and be back to the parking lot around 2:00 pm. We will be doing some brush work, tread repair, signage and there is also one major slide we hope to have the manpower to repair. Following trail maintenance lunch and cold drinks will be provided by CORBA! Be sure to have some sturdy shoes and long pants and long sleeve shirt is recommended. Bring some water to carry with you in a pack and some trail snacks too. Meet at 8:00 am. Details.
October 18th - 18th Annual COSCA Trail Work Day and BBQ
The Conejo Open Space Conservation Agency (COSCA) had another successful trailwork day. As well as CORBA members and other mountain bikers, hikers, trail runners and equestrians of all ages came out to help. We split into two groups. One group worked on a bypass of a steep ridgeline section of the Reino Trail between Newbury Park and Dos Vientos. This new quarter-mile segment is almost 25% longer with many more turns than the section it replaces and is much more fun to ride in both directions. The other group went to the Bowfield Trail near the intersection of Kanan and Lindero Canyon Rd. Raffle prizes at the lunch afterwards included food baskets from Trader Joe's and a brand new Specialized HRXC mountain bike. Take a look at the activities on the photo gallery!
---
Sat. Nov. 8: Gabrielino Trail to Red Box to Ken Devore Trail.

Advanced level ride. The ride starts at the lower parking lot of Switzers picnic area, from there is a challenging 4-mile climb up the Gabrielino single-track, to Red Box (water available here). From there it's a few miles up Mt. Wilson Road to the Kenyon Devore Trail (formerly Rattlesnake), then it's 2.8 miles (1900 ft. elevation loss) down fun twisty single-track down through forests to the Gabrielino trail where we will fork right to take us down another mile along side a creek to West Fork campground. We'll climb out on the nicely graded and scenic Rincon Red Box Road back up to Red Box then back down the thrilling Gabrielino single-track to Switzers. Distance is 23 miles with 4000 ft. of elevation gain, and will take about 5 hours. Details and directions at www.sbmbc.com.

Sat. Nov. 8: Sycamore Canyon in Pt. Mugu State Park

Beginner level ride. A great ride for first timers to SBMBC. One of the easiest and most beautiful rides near Los Angeles! We will ride up Sycamore Canyon and take the Two Foxes Trail. This will be an eight-mile round trip ride on fairly level ground with one stream crossing, some single track and fire road. The leader will go over the basics of how to ride a mountain bike as we enjoy following the river trail into Sycamore Canyon. If everyone agrees, we can add or subtract from the standard ride, and for example, go up Guadalasca to Overlook and back down to the start. Details and directions at www.sbmbc.com.

Sat., Nov. 15: Ojai - Gridley to Nordhoff Peak. Joint SBMBC/NRMB ride.

Intermediate-Advanced level ride. This is a beautiful out and back ride on 85 percent singletrack that affords some spectacular views along the way. The ride begins with a fairly technical and difficult climb up a short connector trail. The first half of the main trail is a moderate climb and passes through several avocado groves. The second half of the main trail narrows and steepens a bit with many switchbacks. At the top of the saddle we'll cutoff onto a fairly short but very steep fireroad that leads to an old fire lookout tower. The views from the top make the climb up worth the effort. Since this is an out and back ride, those who tire can turn back at any time and coast back to the cars. 15 miles, 3400 feet of climbing, and about 4 hours. Details and directions at www.sbmbc.com.

Sun. Nov. 15: "The Oldest Ride in Palos Verdes."

Intermediate-Advanced level ride. Beginners are welcome, but terrain is steep so come prepared to do some serious climbing. Rides vary from 6 to 10 miles and from 2 to 3 hours usually. Please confirm as, although this is regularly scheduled, cancellations happen. If it has rained within the last 24 hours the ride will start from the Malaga Cove Parking lot. Bring a smile. Details and directions at www.sbmbc.com.

Sunday Novembr 30: New Millennium Trail in Calabasas

Intermediate-Advanced level ride. We will meet at the Bark Park and ride the Bark Park trail to the new Millennium Trail. The New Millennium Trail is a nine mile loop. Total mileage will be around 10.5 miles. If you want more mileage it is easy to connect this ride with Malibu Creek State Park. Ride time will be around 3 hours. For an elevation profile and other information on this and other trails in the area see venturacountytrails.org. Details and directions on the CORBA calendar.
---
Free Mountain Biking Skills Clinic
Saturday December 6 is the next skills clinic.
The CORBA free skills clinic is held on the first Saturday of every month at Malibu Creek State Park.
Mountain biking is a lot like tennis or skiing. Just a few minor adjustments in technique can make a huge difference in your control and proficiency. If you want to get better faster, you need to know the fundamentals of mountain biking technique. Whether you're just getting into mountain biking or have been riding for years, you'll learn some valuable tips from our Introduction to Mountain Biking skills class that is offered each month. Check out our Skills Clinic web page for all the information. After the clinic, see photos of your new skills on the CORBA web site that you can share with your family and friends!
---
Cycle Fest 2008:
The Founding Committee of the SoCal Interscholastic Cycling League is pleased to announce an evening with Gary Fisher on Saturday, November 22. CycleFest is a benefit dinner at Ca Del Sole in Toluca Lake to support the newly forming SoCal Interscholastic Cycling League. Tickets start at $125, company Tables (10 patron tickets) include sponsor benefits, drink tickets, preferred seating and special gifts. Support youth cycling in Southern California! For more information, please visit www.socaldirt.org.
---
Join or Renew your membership

today on our membership web page.

Join Our Team! Do you have any ideas about mountain biking recreation in the L.A. region? Would you like to apply your skills and manage projects that contribute to the sport and lifestyle that you love? Is there an advocate in you? We are recruiting motivated individuals who work well with others. Send an email to info@corbamtb.com or come to a monthly Members Meeting to find out more about what we do and how you can help. Check the calendar for the next meeting.

Other simple ways to support CORBA

(Click on the links above to get more details!)
---
You are subscribed to the CORBA News e mail list. To unsubscribe, send an e mail to corbanews-unsubscribe@corbamtb.com
Please do not reply to this email as the corbanews mailbox is not monitored by people. To contact CORBA, email to info@corbamtb.com or visit our 'Contact Us' page for other addresses.