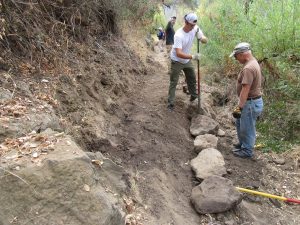 Crags Road, also known as "The Rock Garden" or "The Creek of Doom," suffered major blows this winter, first by the Woolsey Fire that decimated the hillsides, then rainstorms that tore the trail up pretty badly and covered parts with rock slides. We worked on this section not far from the M*A*S*H site in November 2017 (see photo above) and now we're going back to fix it again.
This is a combined project between California State Parks, the Santa Monica Mountains Trails Council, CORBA and Girlz Gone Riding.
All tools will be provided, as well as instructions on how to use them safely and effectively, by experienced trail crew leaders. No experience needed – everyone works at a rate they're comfortable with and takes lots of breaks. Bring a snack to eat on the trail; CORBA will provide lunch after the event for those who sign up here.
Wear sturdy hiking boots with good lugs, long pants, a long-sleeved shirt, sunglasses, sunblock and a hat, and bring water, snacks. Bring work gloves if you have them. We have a few pairs we can loan to people without.
You can learn more about trail restoration work here http://corbamtb.com/programs/trail-crew.shtml and here http://smmtc.org/trailwork/voltips.php
Parents/guardians are responsible for minors at all times, and they must constantly and directly supervise children under 14. Children must be over 7-years old to attend. Please leave your four-legged friends at home!
Online signup is requested to help us plan the number of tools and the amount of lunch food we'll need. Sign up at our Meetup page for this event https://www.meetup.com/CORBAmtb/events/259311989/