CORBA eNews for September 19, 2008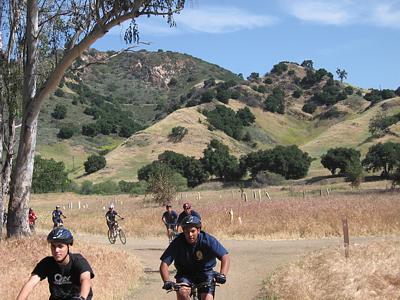 Riding in Malibu Creek State Park
In this issue...
Take A Kid Mountain Biking Day - Saturday October 4.
In conjunction with the IMBA Take a Kid Mountain Biking Day event, CORBA will be having a fun ride at Malibu Creek State Park at 9:00 am. The ride will be followed by a barbecue. Kids must have their own bikes and helmets. All ages are welcome! If your Kids are too young to ride, feel free to bring a bike trailer or trail-a-bike and tow them along. These can be your own kids, nieces, nephews, friends kids, neighbor's kids... There will be a few different ride options for different age groups. Feel free to participate even if you don't have any kids to bring.
Childhood obesity in the United States has reached an all-time high. Experts say that the current generation of U.S. children could actually have a shorter life expectancy than their parents. IMBA and CORBA believe mountain biking can help reverse this trend. We need your help to get kids back on bikes. Please RSVP to Hans at hans@corbamtb.com if you plan on attending.
---
Save the date! The 2008 Fat Tire Fest will be held on October 12, 2008 at Castaic Lake.
Registration is now open for this year's event. Remember, CORBA members get a discount when registering! Register early to receive free raffle tickets.
Come to the Southern California mountain biking event of the season, the 2008 CORBA Fat Tire Fest! It's fun for the whole family and you'll be helping support our ongoing mountain biking advocacy and recreation programs. This year's event has even more than last year!
Guided beginner and expert rides
Poker rides at the beginner and intermediate level
Contests: hill climb, log pull, wheelie, bike limbo
Kids bike rodeo
Raffle with great prizes: Specialized women's Rockhopper Comp, two Giant Simple Seven cruisers, REI Novara System 2.0 bike, Santa Cruz Superlight D XC bike, TREK OCLV Carbon Elite 9.9 2008 frame, 37 piece Sette Torx tool box set from PRICEPOINT, Cool BD1/BD2 Team Editon backpacks from ERGON USA, and more, more more! Check for more prizes
Silent auction on great mountain bike stuff
Bike demos: Giant, Specialized, Trek, Gary Fisher, Cannondale, Niner, Bike Warrior (Scott), Bionicon, Cynergy (Yeti/Rocky Mountain)
Bring your bathing suit for a swim at the Castaic Lagoon beach. The average October temperatures at Castaic is:
Max Temperature 83 °F / 28 °C
Min Temperature 55 °F / 12 °C
Never been to a Fat Tire Fest? Check out the photos and video from last year!
For full details and latest fest info go to: www.corbamtb.com and click on Fat Tire Fest! For volunteer and sponsor/exhibitor opportunities, please email Louisa at mtbike4@verizon.net
See you at Castaic Lake Oct 12th!!
---
September 27 - Public Lands Day - Castaic Lake
The fire department has come through and graded some areas for fire clearance. In the process some of the trails have been damaged. We will make some minor repairs on those areas as well as doing some brush removal on some of the overgrown trails. We want the trails looking good for CORBA's upcoming Fat Tire Fest on 10/12! Bring your Mountain Bike if you would like to ride into the area where we will be doing the trail maintenance and maybe do a ride after trail maintenance too! If you do not want to ride in we should be able to drive in relatively close to the area and then hike in a short distance. We will meet at the Superintendent's office. Details on CORBA's Calendar.
October 18th - 18th Annual Cosca Trail Work Day and BBQ
Join CORBA, Santa Monica Mountains Trail Council, Conejo Open Space Conservation Authority and other volunteers groups to work on the Conejo Open Space trails. There will be a thank you Bar-B-Que after the work. This is a great event with many volunteers.
Get further details from the Conejo Open Space Foundation Trail Work Page and photos from previous COSCA trailwork events.
---
Sunday September 21 - "The Oldest Ride in Palos Verdes"
Intermediate-Advanced level ride. Beginners are welcome, but terrain is steep so come prepared to do lots of climbing. Rides vary from 6 to 10 miles and from 2 to 3 hours usually. Please confirm as, although this is regularly scheduled, the leader sometimes leaves the area. If it has rained within the last 24 hours the ride will start from the Malaga Cove Parking lot. Sunday Ride will start at 9:30 a.m. Bring a smile. Details and directions at www.sbmbc.com
Saturday September 27 - Sisar to Gridley, Ojai
Advanced level ride. This ride is near Ojai and it about 31 miles and 5000 feet of climbing. We start the ride with seven miles on the road to get to dirt. Sisar Trail is eight and half miles of fire road climbing to the ridge. From the top, we ride another four to five miles of rolling hills, and then the rest is downhill with an optional mile and quarter of climbing to the Nordhoff Peak. Almost seven miles of the downhill is on Gridley single-track trail. We ride about two miles on the road back to the cars and a late lunch at Bocolli's restaurant. Details and Directions at www.sbmbc.com
Sunday October 5 - Gabrielino, Kenyon Devore, Rincon Redbox. Pasadena Area.
Advanecd level ride. We will meet at the lower Switzer parking lot and then take the Gabrielino singletrack trail up to Red Box then ride up the Mount Wilson Road to the Kenyon Devore trail drop the heavily wooded and scenic trail down to the down to West Fork Campground and then up Rincon Red Box Fire road which will take us back up to Red Box. We will then return via the Gabrielino back to our cars. About 23 miles this will take around 6 hours. Bring lots of water, and food. Water is available at Red Box. Details and Directions at www.sbmbc.com
Saturday October 11 - Sycamore Canyon/Pt. Mugu State Park
Novice/beginner level ride. A great ride for first timers to SBMBC. One of the easiest and most beautiful rides near Los Angeles! We will ride up Sycamore Canyon and take the Two Foxes Trail. This will be an eight-mile round trip ride on fairly level ground with one stream crossing, some single track and fire road. The leader will go over the basics of how to ride a mountain bike as we enjoy following the river trail into Sycamore Canyon. If everyone agrees, we can add or subtract from the standard ride, and for example, go up Guadalasca to Overlook and back down to the start. Details and directions at www.sbmbc.com
Sunday October 19 - Chino Hills.
Intermediate-advanced level ride. This area provides us with single track trails and fire roads for all levels of riding combined with great mountain views of the San Gabriels and San Bernadinos. The ride should be about 20 miles, although if the weather is cool and the riders willing, we may explore the south-east corner of the park, which will add about 6 miles. Deatils and directions at www.sbmbc.com
Saturday, October 25 - Lower Merrill to Inspiration Point and Sunset. Pasadena Area.
This is a long ride with lots of singletrack thrills, technical challenges and good 'ol So Cal history. We will park at JPL parking lot, ride pavement eastbound for a few miles, then up the Lower Sam Merrill where we will discover the ruins of what was once a very sheik resort and listen to Echo Mountain mock us. We will then ride the remains of the old Mt. Lowe Railroad Trail, up to the Inspiration Point where, if it's a clear day, will offer some of the best views of the greater L.A. area you'll find anywhere. Now the fun begins as we go down the Middle Sam Merrill, then down Sunset Trail, both white-knuckle adventures. For those not interested in the technical white-knuckle adventures, you can descend back down Mt. Lowe fireroad and meet up at Millard Campgrounds. Then the fun continues as we ride up Millard Canyon fireroad over to El Prieto singletrack which we take down and through the Arroyo, and back to the JPL parking lot. Meet at 9:00 am and be ready to depart 15 minutes later. Details and directions at www.sbmbc.com
---
Free Mountain Biking Skills Clinic
Saturday October 4 is the next skills clinic.
The CORBA free skills clinic is held on the first Saturday of every month at Malibu Creek State Park.
Mountain biking is a lot like tennis or skiing. Just a few minor adjustments in technique can make a huge difference in your control and proficiency. If you want to get better faster, you need to know the fundamentals of mountain biking technique. Whether you're just getting into mountain biking or have been riding for years, you'll learn some valuable tips from our Introduction to Mountain Biking skills class that is offered each month. Check out our Skills Clinic web page for all the information. After the clinic, see photos of your new skills on the CORBA web site that you can share with your family and friends!
---
Join Our Team
Do you have any ideas about mountain biking recreation in the L.A. area? Would you like to apply your skills and manage projects that contribute to the sport and lifestyle that you love? Is there an advocate in you? We are recruiting motivated individuals who work well with others. Send an email to info@corbamtb.com, come to a board meeting, or speak to a Board Member at the Fat Tire Fest.
New Book - Mountain Bike Master
Mark Langton, CORBA's Introduction to Mountain Bike Skills Class coordinator and instructor, has published his second skills book, "Mountain Bike Master." Says Langton, "The title was the publisher's idea. I wanted it to be "Mark Langton IS a Mountain Bike Golden God!" The book is a compilation of knowledge from over 20 years as a mountain bike journalist and instructor and contains easily understood descriptions and lots of photos of all the core trail riding fundamentals—from basic to advanced—that every mountain biker should know. The book will be distributed nationally through bike shops and at www.menasharidgepress.com, or you can order a signed copy directly from Mark. Contact him at 805-558-1606 or markmtb@roadrunner.com. For info on Mark's personal coaching go to www.mountainbikeskills.com.
Job Opening - REI Northridge - Outreach Specialist
Bring your special events planning experience to an industry leader!
As an Outreach Specialist in the Northridge store, you will work closely with your store management teams and community partners to plan and promote in-store and community clinics, corporate promotions and other events. This position does require some evening and weekend shifts. This position is part-time only but possibly full-time if combined with a floor sales position (benefits may be available if full-time).
If, you have previous experience in special events/promotion planning and execution. In addition, you need to be self directed, possess proven planning and communication skills and the ability to work effectively with your stores teams and outside club/organization partners. Your knowledge of REI products and services is a plus! Please submit a cover letter explaining why you would be the best candidate for the Outreach Specialist position
The job posting will be open until 9-30-08.
---
membership web page.

Other simple ways to support CORBA

(Click on the links above to get more details!)
---
You are subscribed to the CORBA News e mail list. To unsubscribe, send an e mail to corbanews-unsubscribe@corbamtb.com
Please do not reply to this email as the corbanews mailbox is not monitored by people. To contact CORBA, email to info@corbamtb.com or visit our 'Contact Us' page for other addresses.