CORBA eNews for November 1, 2007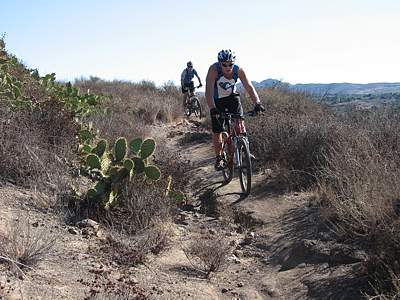 Santa Rosa Trail to Wildwood Park in Thousand Oaks
FAT TIRE FEST WRAP-UP
What a great event this year's Fat Tire Fest was! The weather was perfect for riding and festivities. We had a record-breaking crowd of over 600 participants, volunteers and exhibitors and a great time was had by all. The 2007 FTF featured the Poker Ride, Hill Climb Contest, Wheelie Contest, Log-Pull, Beer Garden, Raffle, demo bikes from an assortment of companies and local bike shops and great food. CORBA would like to thank all who attended the event for your support. We would especially like to thank our volunteers and sponsors - we couldn't do it without you. For more information on the event and to check out photos, please visit our FTF site.
---
CORBA MEMBERSHIP
If you joined CORBA or renewed your membership at the Fat Tire Fest and do not receive your membership card in the mail by November 7, please send an email to membership@corbamtb.com and provide your name, address, and how you joined (at the event, US Mail, PayPal). All membership cards should be received by the 7th, but as we have experienced in year's past, some don't make it to the recipient and we would like to make sure they do.
To join or renew your membership, please visit the Membership page.
---
MOUNTAIN BIKING SKILLS CLINIC - SATURDAY NOVEMBER 3, 8:45AM
Malibu Creek State Park - Mountain biking is a lot like tennis or skiing. Just a few minor adjustments in technique can make a huge difference in your control and proficiency. If you want to get better faster, you need to know the fundamentals of mountain biking technique. Whether you're just getting into mountain biking or have been riding for years, you'll learn some valuable tips from our Introduction to Mountain Biking skills class that is offered each month. The clinic also covers backcountry preparedness and basic bike repair. For more information, visit our Skills Class page.
---
RECREATIONAL RIDES - Guided Mountain Bike Rides
Join us for the following rides:
Saturday November 3rd in Fullerton for an 11-mile intermediate loop ride. Multiple start times.
Sunday November 4th at 9:30AM in Palos Verdes for "The Oldest Ride in Palos Verdes."
The Following Sunday November 10th at 9:00AM at Sycamore Canyon / Pt. Mugu State Park. This is a great ride for novice riders as the terrain is relaxed and the ride leader provides basic mountain bike riding skills.
For details on these rides and to see other rides in November, please visit http://www.sbmbc.com/newsletter.php?c=200711
---
PUMP TRACK BUILDING & RIDING SESSION - SUNDAY NOVEMBER 11, 11:00AM
The CORBA Trail Crew is building a Pump Track in Mission Hills (north Valley). A Pump Track is a series of rollers and berms that you pump your bike through. For more information on this special project, please view the calendar at www.corbamtb.com.
---
FOREST CLOSURES - KNOW BEFORE YOU GO
As a result of extreme fire danger, Angeles National Forest officials issued a temporary emergency Forest closure which became effective last week on October 23, 2007 and it is projected to last until conditions have improved.
"It is our intent to get the Forest re-opened to the public as soon as possible," Jody Noiron, Forest Supervisor, said.
"However, with the extreme fire danger, ongoing fires in Southern California and the predicted strong weekend winds, we need to make public health and safety our primary concern. We will reassess the situation early next week to see if things have changed so that we can lift the closure."
While the closure is in effect, going into or being upon National Forest System lands, roads, or trails within the Angeles National Forest is not allowed. The closure will affect the use of all National Forest recreational facilities, roads and hiking/biking trails. Violators are subject to fines and/or imprisonment - (Yikes!)
Most County roads and state highways, such as the Angeles Crest Highway (Hwy 2), will remain open to through traffic. However, Glendora Mountain Road (GMR) is closed from Big Dalton Road to East Fork. The Glendora Ridge Road is closed from the junction with GMR to Mt. Baldy Village. Chantry Road is also closed.
For more information on the closure on the Angeles NF, please contact one of the offices listed below or visit the Forest Service website at www.fs.fed.us/r5/angeles.
Forest Supervisor's Office, Arcadia (626) 574-1613
Los Angeles River Ranger District, Tujunga (818) 899-1900
San Gabriel River Ranger District, Glendora (626) 335-1251
*Note: The Santa Clara Mojave Rivers Ranger District which was located in Saugus, CA was destroyed in the Buckweed fire and a temporary office will be re-established soon.