Feb 19, 2008
Your presence is urgently needed Saturday Feb 23rd, 2008
Rancho Palos Verdes City Council to Decide Trails Uses
This will be your last opportunity to express your views on the trails plan
Where: Point Vicente Interpretive Center Community Room located at 31501 Palos Verdes Drive West (Map)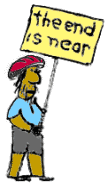 When: Saturday Feb 23rd 9:30 AM meeting may last all day. Here is the suggested schedule.
Why: Council will review and consider the Public Use Master Plan (PUMP) Committee's recommended Trails Plan.
● View PUMP Committee trail recommendations for all reserves here.
● View CORBA PV trail recommendations for all reserves here.
You can view the full Planning Commission Staff Report with maps, minutes from the PUMP meetings, comments from committee members, and letters from the public.
What other groups recommend – Equestrian 10-3-07 ,  SUN'P Phase II 10-3-07
You can participate by speaking (details on speaking) and /or sending an email to the city council at CC@rpv.com. We encourage RPV residents to voice their views. Email CORBA PV at info@mtbpv.org if you have questions.
Suggestions:
Please don't send duplicate emails or petitions, make them original.

Keep it positive! No need to rant or complain, just tell them what you feel is a fair plan.

For specific trails, use the names on the CORBA PV recommendations.

For trails not on the map, try west or east of the closest named trail. There should be a map on display.
Below are some points to consider:
Cyclist will stay on designated trails and not build new ones.

Cyclists will volunteer to repair damage to trails.

The bike community is working to make sure everyone knows the rules.

There is no evidence that bike use impacts trails any differently from other users if they stay on designated trails.

Cyclists have volunteered for trail work and deserve respect.

I've volunteered to repair these trails. We deserve to ride them. 

Cyclists can control their bikes even on the steepest trail.

I've never had a bad encounter with hikers or horses.
More information is available from the CORBA Palos Verdes web site.